Thinking of a return business-class flight from Australia to Europe later this year? The travel restart following the pandemic shutdown has pushed the cost of business-class travel to new highs, and out of reach of even many well-heeled travellers.
A return flight to Europe in September is going to cost about $15,000 with a legacy carrier such as Qantas, Emirates or Qatar. To the USA at the same time, between $10,000-$13,000 and, for that reason, many one-time business-class travellers who pay for their flights are now choosing to fly premium economy, at less than half the cost of a business-class seat.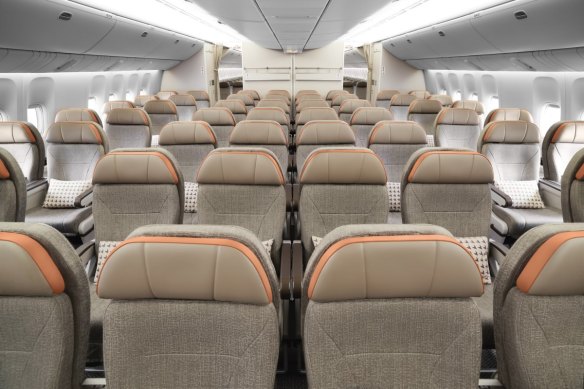 The 2023 Skytrax World Airline Awards have just revealed the airlines with the best premium economy service, with Taiwan's EVA Air taking gold this year. Singapore Airlines comes second, up three places from last year, followed by Emirates, Virgin Atlantic and Delta, all in the top five in 2022. These rankings were based on the overall experience. When based on the seat alone, Emirates came in at number one, followed by Singapore Airlines, then EVA.
Emirates and Singapore Airlines were late adopters of the class but both now feature regularly on any list of the world's top premium economy airlines. Qantas comes in sixth, the same as in the 2022 awards and a creditable achievement since the national carrier tumbled 12 places over the past year on Skytrax's list of the World's Top 100 Airlines.
What's to like about premium economy?
A premium-economy seat gives you about 15 centimetres more legroom than economy-class passengers endure on the same flight. That's only about the length of a largish phone but when the passenger in front reclines, your knees won't groan. It's also wider, by about 3.8 centimetres over a long-haul economy-class seat. Less than the length of your little finger, but again it makes a difference.
The seat's recline angle is steeper than in economy, but a long way from a lie-flat business-class seat. You're also in a separate cabin and depending on its size you might get a separate toilet from economy class. The configuration is typically 2-4-2 or 2-3-2, which means less chance of someone crawling over you to get to the toilet, or having to crawl over someone else. Combined, those elements mean you're probably going to get a better sleep, and arrive smiling.
Other perks include a separate check-in, priority boarding in between business and economy passengers, a more sophisticated menu than economy, a bigger entertainment screen and increased baggage allowance. Japan Air Lines even allows premium-economy flyers into its business-class lounges in Japan and a small number of overseas ports.
Why airlines love premium economy
In a widely quoted presentation in 2019, Harry Hohmeister, head of commercial passenger airline with the Lufthansa Group, called premium economy a "money-generating machine". In terms of the cabin space it occupies, a typical premium-economy seat earns 33 per cent more revenue than a traditional economy seat and six per cent more than a business-class seat.
Without having to provide a lounge, a fancy menu with better food and wines, a higher staff-passenger ratio and all the other frills that come with a business-class ticket, the airline cops a cash shower. In 2019, when Qantas gave its Airbus A380 fleet a makeover, the airline bumped the number of premium-economy seats on some of its superjumbos to 60, up from 35.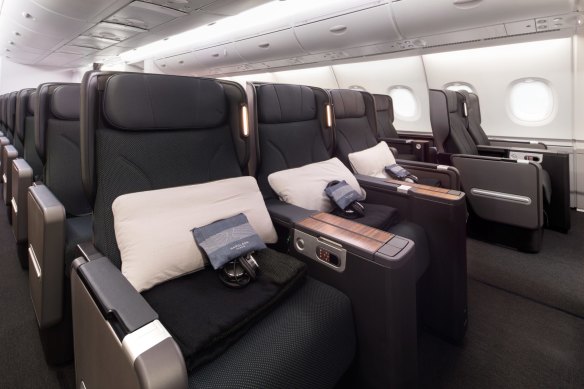 Airlines have shown unbridled enthusiasm for premium-economy seating. In 2015, the only airlines flying into Australia with premium-economy seats were Qantas, Virgin Australia and Cathay Pacific, and only on some routes. Today, as well as Qantas and Cathay Pacific, that list includes Emirates, British Airways, ANA, Air Canada, Air New Zealand, United Airlines, Singapore Airlines, China Airlines, EVA Air, Delta Air Lines, China Southern, Vietnam Airlines, American Airlines, Air China and Japan Airlines.
And the in-between class
A handful of airlines flying into Australia have another seat option between economy and premium economy. Under several different names including Economy Plus (United Airlines) Comfort+ (Delta), Main Cabin Extra (American) and Economy Space (Etihad), this class gives you enhanced legroom and that's about it. Meal, seat width, baggage allowance are all the same as for standard economy, at a price in between economy and premium economy.
Is it worth it?
According to Seat Guru, United's Economy Plus flyers get an extra 7.5-10 centimetres of seat pitch and 2.5 centimetres greater recline angle than standard economy seats. Since seat width is the same at 46.2 centimetres, cabin configuration is identical for both Economy and Economy Plus flyers.
For a return flight from Melbourne to Los Angeles in September aboard United, the basic economy fare starts from $1491. Economy Plus seating adds $526 to the total, which is $1782 less than a premium economy seat on the same flight. If all you're after is extra stretch room, that Economy Plus seat is probably going to be more attractive than premium economy.
Etihad is the only airline offering this seat category, which it calls Economy Space, on westward-bound flights out of Australia. Seat pitch is 10.2-12.7 centimetres greater than in the airline's standard economy seats. A return economy-class flight from Melbourne to Frankfurt in October with Etihad starts from $2119. A Space Saver seat on all sectors adds $824 for a total of $2943.
However, a little research reveals a Japan Air Lines premium-economy seat for the same route, same dates, at a price of $4163. That seat has a pitch of 107 centimetres against 89 centimetres for Etihad's Economy Space seat, slightly more width between armrests, a greater recline angle plus priority boarding, luggage, upgraded food and beverages and even lounge access for the layover in Japan. That's why I'm flying JAL premium economy to Paris in September.
The world's best premium economy cabins
EVA Air
Singapore Airlines
Emirates
Virgin Atlantic
Delta Air Lines
Qantas Airways
ANA (All Nippon Airways)
Air France
Cathay Pacific Airways
Japan Airlines
Based on this year's Skytrax World Airline Awards rankings.
Sign up for the Traveller newsletter
The latest travel news, tips and inspiration delivered to your inbox. Sign up now.
Michael Gebicki
is a Sydney-based writer and photographer who has been writing travel articles since 1982. Michael is Traveller's resident Tripologist, answering your travel questions and offering expert tips and advice.
Connect via Twitter.
Article source: https://airlines.einnews.com/article/642642987/TcmoucCclDojsF2A?ref=rss&ecode=vaZAu9rk30b8KC5H