Hoot for Scoot
I read so many horror stories of airlines not refunding tickets quickly that I was shocked to find just the opposite with Scoot Airlines. My Singapore to Sydney flight on Scoot was rescheduled by eight hours after I had booked it.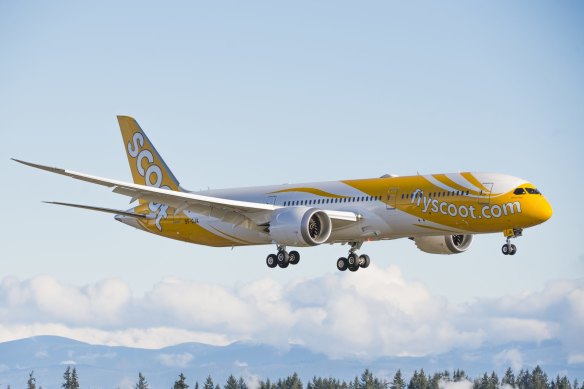 The Scoot offer was that if I was not happy with the new departure time then I could either get a full refund, or be given credit to the value of 125 per cent – yes, 125 per cent – of the money I had paid for the tickets. These were both good options. I chose the refund and got an immediate email confirming my choice and had the money in my bank three days later. Full marks to Scoot.
Peter Brewer, Erskineville, NSW
Letter of the week: The Lonely guy
Lonely Planet guidebooks co-founder Tony Wheeler's account of Cuba in his cover story, (Traveller, July 1) needs an update. Cuba's outstanding economic problem today is the US government's embargo against them. For example, petrol is in such short supply it is now included in the warnings on our own government's Smart Traveller website. On our recent trip our driver joined long queues for petrol every day. When President Obama lifted the embargo, not only goods but tourists came and life improved greatly for Cubans. Then Trump reimposed the embargo. Despite the difficulties, it is well worth travelling beyond Havana. In the provinces you see the real Cuba, including old cars and horse-drawn vehicles in everyday use.
Helene Juliff, Ashburton, Vic
The Lonely guy II
Unsurprisingly, Tony Wheeler is an absolute guru full of knowledge about travelling our beautiful planet. His candid insights in his story were interesting and compelling. (Who knew that Australia has 8222 islands? Extraordinary). There is so much within our own unique country to explore that we may never need to venture overseas again.
Amy Hiller, Kew, VIC
The Lonely guy III
Although Tony Wheeler has travelled far and wide, he still has a bucket list. One of those listed places is the Orkney Islands, off the north coast of Scotland. Aged 55, I ventured overseas for the first time and this wonder-filled destination was on my list. Its Viking history is evident and the standing stones are older than Stonehenge. Orkney is wild, magical and spellbinding. Driving to the top of Scotland's mainland to catch the ferry to Stromness is the beginning of a grand adventure. Tony Wheeler, make it number one on your bucket list. You won't be disappointed.
Vicki Walker, Coburg, Vic
Out of sight, out of my mind
We recently travelled to and from Sydney to Zagreb, via Jakarta and Istanbul, with Turkish Airlines. Our luggage was checked through to Zagreb-Sydney, however our boarding passes had to be reissued in Jakarta. The passports of all transiting passengers were collected and taken somewhere in a plastic bag to be processed with no explanation. This meant an hour of nervous waiting for passengers in the airport transit area. I always thought travellers shouldn't let their passports out of sight. Incidentally, Turkish Airlines performed well apart from this.
Vicki Steele, Kiama, NSW
Brimming with praise
Hats off to Katrina Lobley in the dipping of her lid in her article on how to wear an Akubra (Traveller, July 1), graphically illustrated by Jamie Brown. The trend to be seen wearing the iconic Australian headpiece has received a boost in more recent years and it seems to be a status symbol for those not just seeking protection from the sun's rays but also wanting to create an infinity with the land. My late father always wore a hat. A carpenter by trade, the Akubra was never part of his wardrobe. And despite the humble nature of his hat he always dipped his lid when greeting a lady. A lost etiquette not often practised by those who leave their hat on.
Allan Gibson, Cherrybrook, NSW
Putting the "ouch" in voucher
Like many other Frequent Flyers, I received a $50 voucher as a peace offering from Qantas CEO Alan Joyce in August, 2021 as a result of my earlier travel being changed by the airline. When I phoned Qantas last week for a refund of this travel pass prior to its expiry, I was fed a load of evasions, before being rung back and told that it had been used. That was impossible, as I haven't flown with Qantas since July 2021. I'm writing to warn others that they may possibly get the same runaround from the Qantas overseas call centre.
Ian Stevenson, Gladesville, NSW
Loud and proud
Lee Tulloch (Traveller, July 1) sings the praises of Aussie travellers being appallingly treated by airlines and copping it without complaint. Does she not believe that it's reasonable to be kept informed when there's a delay? Every time we allow the airlines to treat paying customers with such contempt simply encourages them to keep on doing it. Complain, I say, and do it loudly.
Eric Groszmann, Sippy Downs, Qld
Pal JAL
We have just flown JAL Premium Economy London to Sydney with business lounge access at both Heathrow and Tokyo. Nice one, JAL. It's the little things that count with JAL now our preferred airline Sydney to London in the future. The other airlines need to lift their game.
Peter Wilson, Murray's Beach, NSW
Little things count
Thanks, Brian Johnston, for mentioning the daily offerings that Balinese people leave out (Traveller, July 1) in doorways, temple steps, roadways and on windowsills. They are integral to the daily activities of all Hindus. Travellers to other cultures are much wiser if they notice the little things along the way. Bali has so much to offer if you learn from locals. I left my heart there in the 80s after spending time with locals over a few precious years.
Joanne Stevenson, Sanctuary Point, NSW
Memory keepers
I echo the words of Christina Weymore-Peyton (Traveller Letters, June 23). This year I had the privilege of attending the ANZAC Day Dawn Service at the Berlin Commonwealth War Graves Cemetery and I also visited the Commonwealth War Graves Cemetery in Malta. Both were impeccably maintained and are an ongoing tribute to those who gave their lives for us. The Commonwealth War Graves Commission does a sterling job and I encourage anyone travelling to pay a visit to the resting places of some many of our fellow Australians. There are 23,000 Commonwealth cemeteries in 150 countries.
Michael Thomas, Cheltenham, NSW
Land of fire and ice
This is an incredible land of volcanoes, lava fields, black sand beaches and rugged sharpened landscapes. Did I mention waterfalls? Oh, and glaciers, hundreds of them. We are in Iceland in summer with a top temperature of 12 degrees Celscius. Rain, fog and wind that can knock you off your feet. We are on a self drive around the island along with what seems like most of the baby boomers of France and Germany in every tourist spot. Go now. Iceland could become even more popular.
Michael Copping, Oatley, NSW
EDITOR'S NOTE Our reader has followed up his initial letter, above, with news of the eruption of Iceland's Fagradalsfjall volcano during his visit. "We have had one earthquake since arriving," Michael Copping writes. "It was a low booming rumble 5.3 magnitude. It shook our hotel for about five seconds."
Express purposes
Your reader Jeff Swan felt he was getting a bargain catching a taxi (Traveller Letters, July 1) instead of getting a discount transfer from the hire car company. Why would you hang around waiting for a taxi for €50 ($A82.10 ) to go from Fiumicino (Rome) airport into the city when you could take an express train for €14 ($22.99). They run every 15 minutes. If you queue for a taxi for 30 minutes then take 30 minutes (minimum) to get into Rome, you could get an express bus for €6 which takes only 45 minutes.
Judith Rostron, Killarney Heights, NSW
Pocket rocket
It is getting a bit tiresome reading letters from people being pickpocketed in France and Europe. It has been happening for more than 10 years and if you are going to carry cash, then keep it secure around your neck in a pouch and under clothing. Some people are just blasé until it happens.
Michael McKenna, Warragul, Vic
EDITOR'S NOTE What do our readers consider are the best measures for preventing theft when travelling overseas? Write to us and we'll publish the most informative letters.
Special delivery
Japan has an excellent and reliable luggage forwarding delivery service known as "takuhaibin" [meaning "shipping/fast delivery"]. It is a next day service, so just take overnight amenities for your first night. If staying anywhere for just one night, forward the luggage to the next stay, and your luggage will be there waiting. The service is operated by Nippon Express and is inexpensive, extensive, efficient and reliable.
The cost is around JPY2,000 ($20.95) for a 20 kilogram suitcase. Ask at the front desk of your accommodation, have your luggage with you, show the staff the address you wish to send your item to and let them know what day you want it delivered. They will fill out the form for you. Have cash handy for payment. Consider asking for help with the paperwork the night before to avoid busy morning times and to make a faster get away the next day.
Kerrie Maitland, Baulkham Hills, NSW
Who you gonna call?
On a recent trip to New Zealand I needed to call an ambulance but I didn't know what number to call. It appears that countries have different emergency numbers so my tip is to find out the emergency number for the country you are visiting before you need it. Also while New Zealand has reciprocal medical cover with Australia this doesn't apply to ambulance use – or in my case a transfer in a medi helicopter at an eye-watering cost. So my second tip for travelling to New Zealand is not to skimp on your travel insurance. For the record, the emergency number in New Zealand is 111.
Pam Stokes, Beaumaris, Vic
The Letter of the Week writer wins three Hardie Grant travel books. See hardiegrant.com
Sign up for the Traveller newsletter
The latest travel news, tips and inspiration delivered to your inbox. Sign up now.
Article source: https://airlines.einnews.com/article/644439220/ABal6HTItKDBtAn-?ref=rss&ecode=vaZAu9rk30b8KC5H