Sparks flew from an Alaska Airlines plane soon after it landed in Southern California Sunday night due to an issue with its landing gear, according to the airline.
Alaska Airlines Flight 1288 was unable to taxi to the gate upon arrival at John Wayne Airport in Orange County when it landed at 11:15 p.m. PT.
The flight, which departed from Seattle, had 106 passengers and six crew members on it.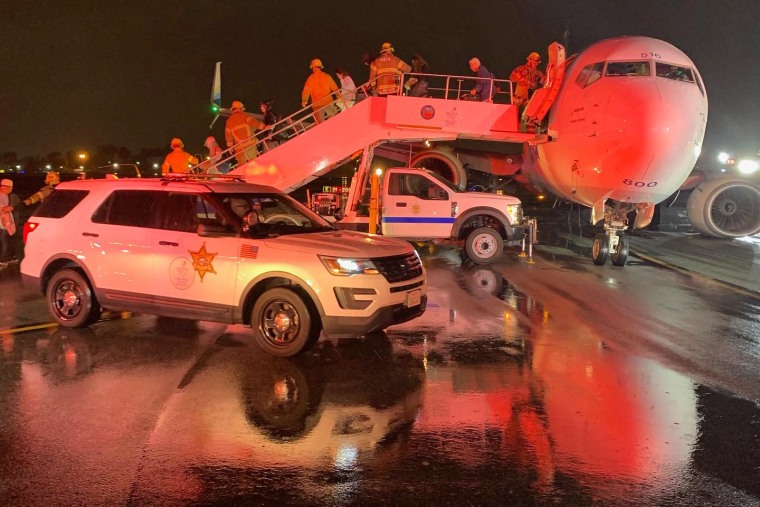 The plane had a main landing gear collapse and was "resting on its engine," according to a call from the scene to Orange County Fire Authority.
Video believed to be taken by a passenger of flight 1288 shows sparks and smoke coming from the side of the plane after it lands. Screams can be heard from the cabin after the plane made a hard landing.
"Holy s**t," one passenger is heard saying. "There's sparks outside."
The incident happened as Tropical storm Hilary slammed Southern California on Sunday with a deluge of rain, flooding roadways and breaking rainfall records in parts of the region as it made its historic arrival. California Gov. Gavin Newsom declared a state of emergency for much of Southern California, with flash flood warnings in place until the early hours of Monday.
An emergency response was requested and all 112 people were off-boarded from the plane on the airfield using airstairs. No injuries were reported, said a statement from John Wayne Airport to NBC News.
"All of them are safe," Alaska Airlines said in a statement. "The aircraft parked on a taxiway, where it remains, and everyone exited the aircraft safely. They were then taken by bus to the terminal."
Alaska Airlines maintenance and safety teams are inspecting the plane.
"We apologize for the inconvenience and appreciate their patience during this situation," the airline said. "The safety of our guests and employees is always our primary priority. While this incident is a rare occurrence, our flight crews train extensively to safely manage through many scenarios."
A week ago, flames burst from a Southwest Airlines jet in the sky near Houston, forcing the plane into a hasty retreat and a safe landing, officials said.
Flight 307 took off from Houston and was bound for Cancún before it returned to William P. Hobby Airport "after experiencing a mechanical issue shortly after takeoff" on Aug. 15, Southwest said in a statement.
Video taken from the ground captured the terrifying scene of flames shooting from the plane's right engine, belying the routine exchange between pilot and tower arranging for its return to Hobby.
The plane landed safely and no injuries were reported.
Article source: https://airlines.einnews.com/article/651356261/Gs6IBoJIwV1eSRuI?ref=rss&ecode=vaZAu9rk30b8KC5H