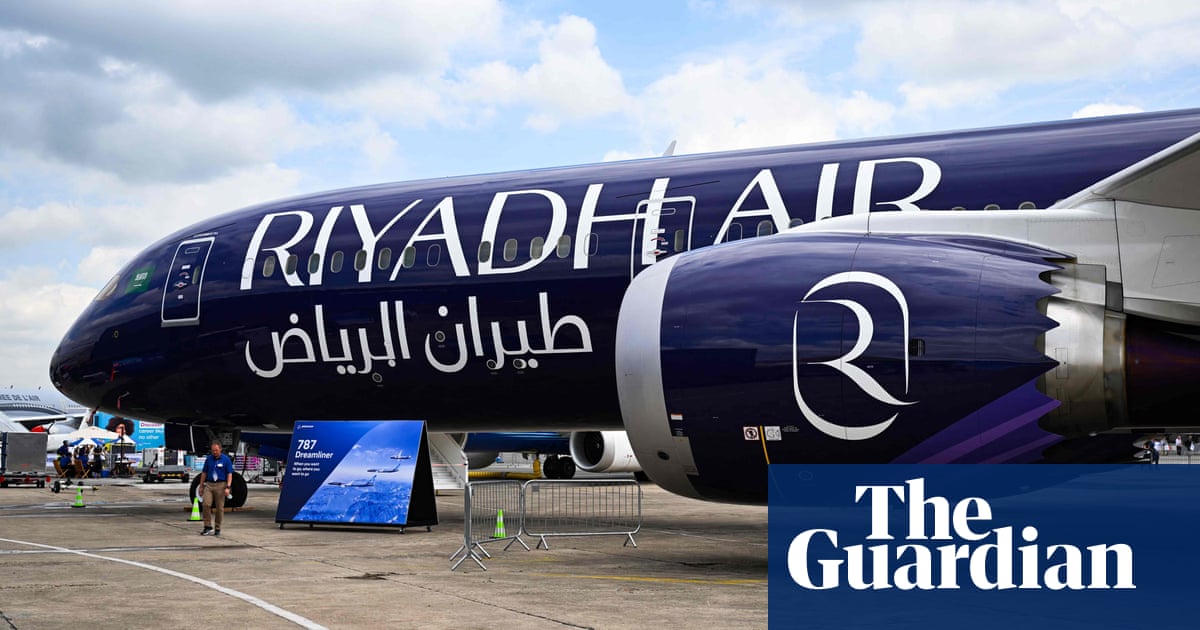 As the deafening roar of an F35 fighter jet washes over the Paris air show, Tony Douglas allows himself a moment of nostalgia: he was formerly responsible for the UK government agency charged with buying the planes.
Now he is in charge of a different aviation proposition, leading the launch of a new commercial airline belonging to the Saudi Arabian state.
Riyadh Air, owned by the country's Public Investment Fund, was first revealed in March alongside a provisional order for up to 72 Boeing 787 aeroplanes.
Now its full launch comes as the global aviation industry races to meet resurgent demand for air travel after the end of coronavirus pandemic lockdowns.
The carrier is this week showing its new purple livery – on a Boeing 787-9 Dreamliner – to the industry at the Paris air show, after making its debut last week in the Saudi capital, with which it shares its name.
It forms part of Saudi Arabia's efforts to diversify its economy away from oil production under Mohammed bin Salman, the crown prince who has taken a central role in ruling the country – including allegedly approving the murder of regime critic Jamal Khashoggi, according to US intelligence agencies.
That murder in the Saudi consulate in Istanbul in 2018 cast a cloud over Prince Mohammed's reign for several years, but the prince has continued with plans for a new 100-mile-long megacity called Neom and massively increased tourism.
Saudi Arabia already owns Saudia, formerly known as Saudi Arabian Airlines, which has been in operation since 1945 when it was gifted a plane by US president Franklin Roosevelt.
However, many of its routes are geared towards passengers travelling to Mecca for the Hajj pilgrimage. Rivals in the Middle East such as Qatar Airways, Dubai's Emirates and Abu Dhabi's Etihad have built up extensive networks with luxurious facilities for travellers in business and first class.
Those fleets of planes are seen as important boosters of the countries' "soft power", carrying hundreds of millions of passengers each year through airports that have become hubs for connecting flights.
Douglas, who previously led Etihad, insists that Riyadh is not aiming to compete directly with those other airlines. Instead, he emphasises the demand from Saudi Arabia's iPhone-wielding population.
"Are we designing to become another super-hub, another Dubai, another Doha? The simple answer is absolutely not. We're designing to serve a nation, to catch up," he says. "It's going to take some time in terms of serving the kingdom in the way that we need to serve the kingdom."
Saudi Arabia is not the only market expecting booming aviation demand. European plane-maker Airbus announced a deal with Indian carrier Indigo for 500 of its bestselling A320 at the Paris show on Monday, thought to be the biggest single order in history.
Hanging over the launch of the new airline, and the broader show, is the question of the carbon emissions that will be created by an enormous expansion of global air traffic. That question "will define ultimately who the winners and losers are", says Douglas. "Anybody who doesn't take it seriously will almost certainly fail."
Riyadh Air will have a sustainability advantage because it will only have the newest, more efficient planes. Douglas says that so-called sustainable aviation fuel – made from plants or using chemical processes powered by renewable electricity – will play an important role.
However, he says he is unable to commit to using a certain proportion of the fuel because of uncertain future supply. The new airline's local rivals are playing down the threat of a new player with deep pockets.
Sir Tim Clark, president of Emirates airline, last month told a travel conference that "I don't see this as a threat to us", according to a Financial Times report.
Douglas says Riyadh Air will not be content with relying on its wealthy owner. "We cannot tolerate inefficiency because all that does is catch you up in the future. Commercial aviation is so competitive, if you start off lazy, you will die."
Article source: https://airlines.einnews.com/article/640429497/fveeDx-GkOrdE0Cc?ref=rss&ecode=vaZAu9rk30b8KC5H