An air passenger, Yossi Adler, his wife, Jennie, and their baby were asked to leave an aeroplane after complaints by other passengers
The man and his family were reportedly accused of having unpleasant body odour that made others uncomfortable
The man has expressed anger, saying he and his family were unfairly treated by both passengers and the American airline
PAY ATTENTION: Have you recorded a funny video or filmed the moment of fame, cool dance, or something bizarre? Inbox your personal video on our Facebook page!
A man, Yossi Adler, his wife Jennie and their little daughter boarded an aeroplane but were ejected after fellow passengers complained that they smelled bad.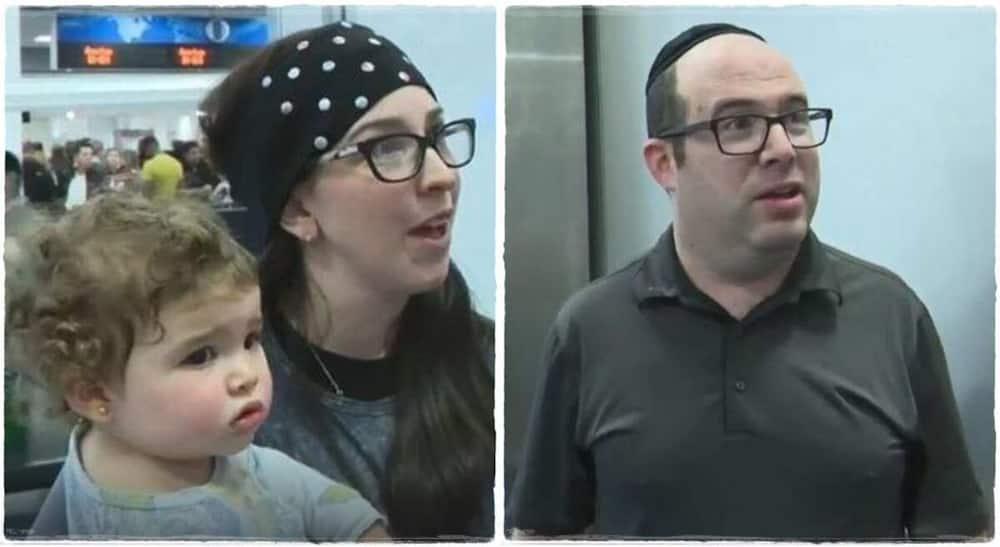 The man lamented that he and his family were poorly treated by the airline and were unable to travel as planned.
Why American airline ejected man and his family from a flight
He insisted that they were discriminated against based on their religion because they are Jewish, Daily Mirror reports.
His words, as quoted by WPLG Local 10 News:
"There's a religious reason for some reason that they're kicking me off the plane. We don't have odour, OK? Nobody here has odour. All of a sudden, as soon as they took us off, they closed the gate and then they said, 'Sorry sir, some people complained you had body odour and we're not letting you back on'."
American Airlines confirmed that the couple and their daughter were ejected from the flight but said another was booked for them. The airline said they were fairly treated and given meal vouchers.
"Mr Adler and his wife were removed from the flight when several passengers complained about their body odour. They have been booked into a hotel for the night and given meal vouchers. They have been rebooked on a flight Thursday."
The couple said they came out of the plane and had to ask other people at the airport if truly they were smelling.
Girlfriend only showers once every 2 weeks
In a related story, Briefly News reported that a young man has revealed that he sleeps on the couch after discovering that his girlfriend of three years doesn't like to shower and has a pungent smell.
The unnamed man indicated that he loves his girlfriend but her refusal to shower means he has to avoid sleeping next to her due to the stench.
Source: Legit.ng
Article source: https://airlines.einnews.com/article/656318123/jEAPNu6xaydAGZI8?ref=rss&ecode=vaZAu9rk30b8KC5H