U.S. airline passengers in early 2023 faced the highest rate of flight delays since 2014. That heightened level of delays came shortly after December 2022, when Southwest Airlines experienced an epic meltdown, canceling 71% of its flights.
In response, on May 8, 2023, the Biden administration proposed new rules that would require airlines to compensate passengers whose flights are canceled or significantly delayed because of causes – unlike bad weather – that are under the control of the airlines. Under the new rules, the airlines would need to offer meal vouchers, overnight accommodations and ground transportation to and from a hotel when customers are stranded.
If enacted, those new rules would provide U.S. passengers with rights and protections more in line with those currently afforded passengers in the European Union and Canada.
As a professor of history who researches American aviation, I'm aware that consumer advocates have pushed for greater passenger rights for airline travelers in the U.S. since at least the early 1970s – when Ralph Nader sued an airline for bumping him from an overbooked flight. For the most part, especially since the Airline Deregulation Act in 1978, such efforts have failed, and airlines have been able to set and enforce their own policies.
Limits of Rule 240
Ralph Nader's suit, which unsuccessfully sought to end the practice of overbooking flights, highlighted that there were regulations already in place concerning passengers bumped from flights because of overbooking. Those regulations, however, did not cover passengers whose flights were delayed or canceled.
There was, however, something known as Rule 240. As part of the Civil Aeronautics Board's oversight of U.S. airlines, airlines had to submit information on all aspects of their operations, including their flight delay and cancellation policies. In these required documents, that information was often listed under Rule 240. However, each airline determined its own flight delay and cancellation policies under Rule 240. The airlines were not required to compensate passengers in any particular way, only to state what their policy was.
As U.S. airlines became deregulated in the late 1970s and early 1980s, many, though not all, included the provisions they had previously submitted to the Civil Aeronautics Board in their contracts of carriage – the "fine print" associated with airline tickets. Many contracts of carriage stated that in the case of a delay or cancellation, the airline would book a passenger on its next available flight or place them on a flight on another airline that would get them to their destination sooner.
Rule 240 or its equivalent under the contract of carriage varies by airline and primarily focuses on rebooking passengers. Some airlines do offer meal vouchers and hotel accommodations, but only when the problem is caused by the airline and not something like weather or a labor strike. Consumer advocates encourage passengers to invoke Rule 240, but airlines will likely provide only what is stated in their contract of carriage.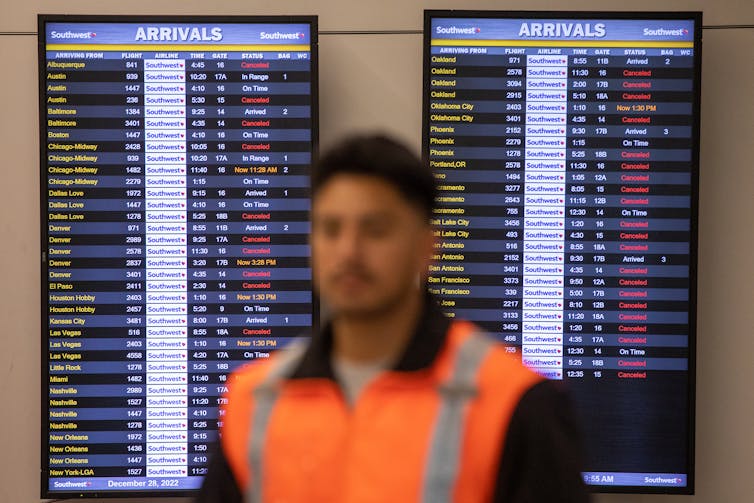 Push for a passenger bill of rights
In recent decades, consumer advocates and even some lawmakers have sought to enshrine more substantial air passenger protections into federal law.
In December 2006, American Airlines held passengers on a plane on the tarmac in Austin, Texas, for eight hours with little food or water. Kate Hanni, a passenger on that flight, lobbied Congress to pass an extensive passenger bill of rights. In response, the Department of Transportation did announce new rules in 2009 that said airlines could not hold domestic flights on the tarmac for more than three hours and must provide access to water and lavatories during such delays.
Those rules were expanded in 2011 to reimburse baggage fees to customers whose bags are lost, increase compensation for passengers bumped from oversold flights, and extend the rule concerning tarmac delays to international flights, with a four-hour limit.
More recently, in November 2021, Sen. Richard Blumenthal of Connecticut introduced Senate Bill 3222 to establish an airline passengers' bill of rights. However, it never made it past the Committee on Commerce, Science and Transportation.
EU paves the way
U.S. passengers flying within the European Union can experience what it is like when passenger rights are guaranteed under law rather than left to the discretion of airlines.
EU legislation mandates that airlines provide passengers with certain levels of care including flight rebooking, meals, hotel vouchers and, in some instances, cash compensation – which varies depending on the length of the delay and the distance of the flight. All travelers who are flying within the EU, or whose flight arrives to the EU on an EU carrier, or departs from the EU on any carrier, are covered under that legislation.
The Biden administration proposal would bring U.S. airline passenger protections more in line with the EU where such protections are mandated and not at the discretion of the airline. Such an effort, while likely welcomed by passengers, is also likely to meet opposition from the airlines – which have enjoyed a long history of setting their own rules.
Article source: https://airlines.einnews.com/article/640480278/dS2v1U8ur4vbVTWF?ref=rss&ecode=vaZAu9rk30b8KC5H