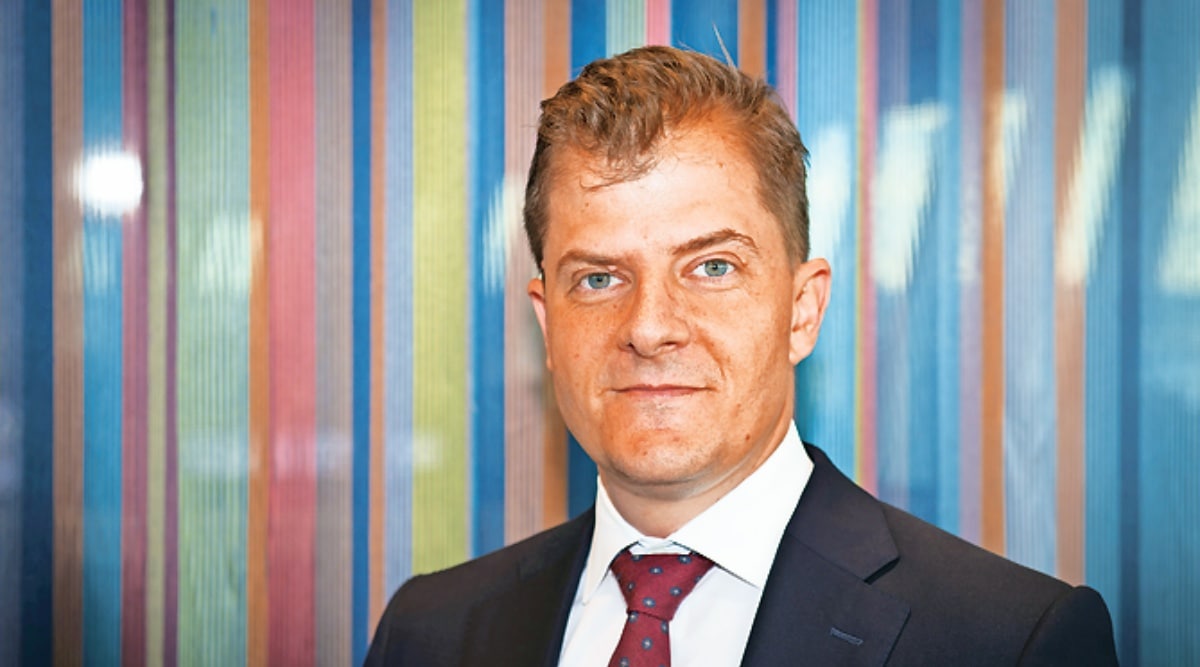 The upcoming greenfield Noida International Airport (NIA), which is likely to see commercial operations from the end of 2024, will be the second major airport in the National Capital Region along with the country's largest airport–Delhi's Indira Gandhi International (IGI). NIA's chief executive officer Christoph Schnellmann is optimistic that the new airport will attract airlines as their needs have been a central element in the project's design and implementation, in addition to obvious factors like India's rapidly growing aviation sector. In an interaction with Sukalp Sharma and Anil Sasi, Schnellmann shares details of the project's progress, and the philosophy and vision behind the new airport. Edited excerpts:
Absolutely. It's been almost a year since we awarded the EPC construction contract to Tata Projects, and the passenger terminal is now up to the first floor. We're working on the third floor of the ATC (air traffic control) tower, and the runway work is on across the entire length.
We've done a lot of work this year, bringing aboard key aeronautical partners. We've awarded a concession to Air India SATS to develop a multimodal cargo hub. Over the next 18 months or so, we will focus on infrastructure for operational readiness. A lot of our work this year will be to conclude the process of selecting aeronautical partners and to start the process of selecting partners who will offer retail and food services.
By when do you expect all the necessary equipment and processes to be in place for flight trials?
Technically, I would say we've already started with the ORAT (operational readiness and airport transfer) process. It is an extended period that involves testing and commissioning equipment and individual systems, and conducting trials of increasing complexity and scale. There's a whole process of DGCA (Directorate General of Civil Aviation) licensing, and test flights and flight trials are a part of that, which we anticipate will begin sometime in the middle of next year. We plan to hand over the ATC tower in the first quarter of next year to the Airports Authority (of India) for them to install and commission their equipment.
Where are your discussions with the airlines? And how crucial would it be to sort of market this airport as a potential hub for airlines operating from IGI airport?
We have been engaging actively with airlines since even before we submitted the bid back in 2019. We did that because we wanted to be sure that we designed infrastructure that worked well for carriers and passengers. We have taken on board their inputs on various things, including designing infrastructure and processes that facilitate quick turnaround times, fast transfers between flights, and short walking times for passengers. We've also taken onboard their input that there's a need in India and the NCR (National Capital Region) for night parking and additional stands, and we've incorporated that into the airport design. Being a greenfield project, we have an opportunity to tailor the infrastructure and processes to the requirements of airlines from day one.
Ultimately, it's up to the airlines to design their network and to decide where they base their aircraft, and that's a function of how much the airport meets their requirements and how strong the catchment is. And we think Noida International Airport ticks both those boxes.
In terms of convincing airlines to move, how have their reactions been, given the well-established IGI airport is also undergoing expansion?
This expansion in Delhi (IGI airport) will continue but I don't think it will happen as quickly as the demand will expand. In our interactions with airlines, there's a lot of interest (in Noida airport). And coming out of COVID, that interest has only grown. The outlook for air traffic growth in India is great with the new aircraft on order, and the new orders that we anticipate will be placed shortly. All this emphasizes the fact that we're in the right place and that India and Delhi-NCR needs additional airport infrastructure to support this growth.
And it is not just about the passenger terminal. If we look at things like the space we have available to develop cargo infrastructure, MRO (maintenance, repair, and overhaul) infrastructure, this project resonates very strongly with airlines.
By when do you see international operations starting at the Noida airport?
We're planning to open as an international airport. We will plan from day one to be able to serve domestic as well as international passenger traffic. However, based on the conversations we've been having with the carriers and the market, we think the vast majority of traffic initially will be domestic, because that's where we see the growth coming from and that's where we see most acutely the need for additional airport infrastructure. When will international flights start operating out of Noida is up to the carriers.
Apart from India's domestic airlines, which are very important for us, we're also reaching out to foreign carriers in East Asia, Southeast Asia, in the Middle East as well to make sure that everyone understands that there is additional airport infrastructure coming to Delhi-NCR.
Will the positioning be that of a second airport in NCR or are there other views to perhaps develop this as a gateway to UP and other parts in the region?
I would say both. The airport is located directly adjacent to the Yamuna Expressway. So, it's very well connected to the NCR. It has the potential to develop into the capital's second airport and also brings a very strong catchment of its own with Noida, Ghaziabad, Faridabad, Khurja, Mathura, and of course Agra, which is probably India's most frequented tourist destination. The airport will be less than two hours away from the Taj Mahal.
Do you have any apprehension that Noida airport might end up getting branded as a low-cost airline airport within the NCR, while IGI (Indira Gandhi International) airport could remain the preferred airport for full-service carriers?
I'll let the passengers and the carriers be the judge of that. I'm convinced that when the infrastructure is delivered, once we've selected partners to curate the retail experience and the F&B (food and beverage) experience, we will be able to offer a premium experience. We have a tagline–Indian warmth and hospitality with Swiss efficiency–and I think we'll be able to offer hassle-free, seamless, quick, and easy processes, and a space that is warm and welcoming to all passengers.
How important is Noida airport's connectivity with the IGI airport? Are you looking at some sort of high-speed connectivity between the two airports?
Connectivity is crucial in very general terms, and I think the location of the (Noida) airport was very prudently selected adjacent to the expressway. State government as well as the federal government are now putting a lot of emphasis on developing the metro rail connectivity, and developing an independent connectivity to the airport from the east for cargo. But when it comes to direct connectivity between the two airports, personally, I don't anticipate a great deal of transfer traffic between IGI and Noida airport. Ultimately, it's up to the passengers and the airlines. But let's see. Time will tell.
What is your vision for cargo operations at the Noida airport?
With Air India SATS on board as the partner now to develop this multimodal cargo hub, we're not looking at only developing a cargo terminal, but an air cargo and logistics ecosystem. So, there'll be space for freight forwarders, 3PL (third-party logistics) players, warehouses, trucks, etc. I think that's one thing we're doing differently. Often when we speak about aviation and air traffic in India, we're focussed on the passengers, but the potential for air cargo in north India or India in general is also exciting.
Are you also looking at developing a full-scale MRO facility as well? Are you in discussions with MRO players?
We won't develop an MRO ourselves, but we have the opportunity to invite airlines and specialised MRO firms to develop it. And that's one of the opportunities that we are exploring. There's interest by the private industry, mainly by the airlines. As a greenfield airport, we have an opportunity to make this space available. I think it's a very interesting opportunity for airlines because the NCR will certainly be an integral part of their network, there's a strong catchment of well-educated people, and it's well connected. We've been in conversation with many players, but I can't share any specifics at the moment.
Your bid for this airport was fairly aggressive. During the pandemic, was there a period when you thought that maybe you were over aggressive?
The pandemic was a period of incredible uncertainty, but to the credit of the group's executive management and our shareholders, never once did they question their commitment to Noida airport. So, literally throughout the worst of it–the first wave of March-April 2020 and the big wave in India a year later–our promoters remained 100 per cent committed to this project. And from the recovery we've seen in India's aviation market coming out of the pandemic, I think their decision has been proven right. For us, for the group, it's an important project. It's our single-largest investment outside of Zurich. So, there's a great deal of interest and also a great deal of support.
A greenfield project always has its advantages, but what are the disadvantages? Are there things that you've sort of seen as hurdles?
Greenfield projects bring opportunities, as well as challenges. So, the opportunity was that we could really design everything from the ground up and develop a vision for what we want the airport to be. Now we have the opportunity to implement it step by step. We don't have the legacy of existing infrastructure, technology, and IT systems, and we can roll those out as we'd like to.
At the same time, of course, it's much more complex as a project than a brownfield project. We don't have anything to hold on to when we start so we really start literally, on the greenfield. If you had a chance to look around the site at the end of 2021, it was literally a greenfield. Now in this very short time, this airport is taking shape, which is incredibly exciting.
Zurich Airport International AG was a promoter of the greenfield Bangalore airport. Is there any learning from that experience that you have incorporated in this project?
If there's one, there's one learning from the Bangalore experience that we have transferred here is about thinking big and really planning for growth. And we've seen in the past 15 years, the growth in aviation in India has somehow surpassed all expectations.
So, one of the things that we have done a bit differently from Bangalore is that we've designed this airport terminal to really expand modularly. This terminal that we're building that will operationalise next year, will serve up to 12 million passengers per annum. But we can relatively easily expand that. We can essentially mirror this existing terminal, to more than double the capacity.
Are you looking to get other partners on board to operate the airport?
Not at the moment, not as such. We're here for the long run.
And what about the government's airport privatisation plan and the opportunity for future greenfield airport development in India? Are you looking to bid for more airports?
India remains one of our key markets internationally, along with Brazil. At the moment, the focus is really on making sure we deliver Noida (airport). But as and when new opportunities arise, we'll certainly take a look. Our experience in India has been very good.
Article source: https://airlines.einnews.com/article/640102691/md7zZ_OEzL30PmSh?ref=rss&ecode=vaZAu9rk30b8KC5H