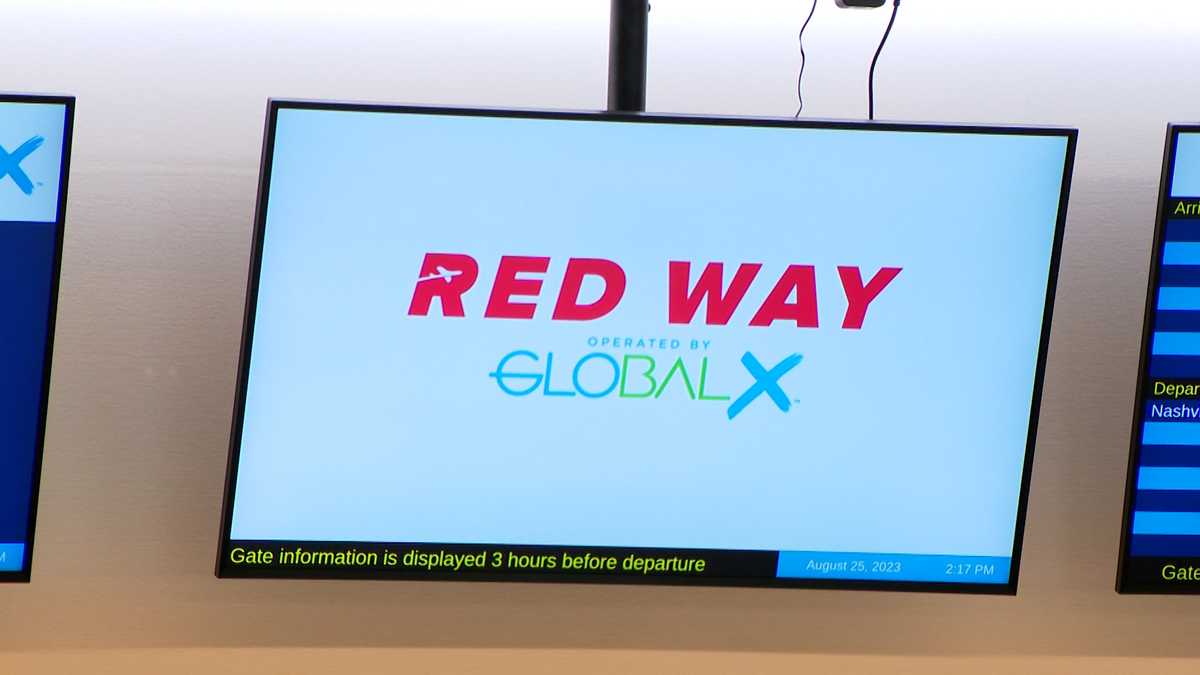 Nebraska's state auditor has a failed Lincoln airline service on his radar.Mike Foley wants to know how Red Way Airlines took millions of dollars of federal pandemic stimulus money only to pull its service after just three months.Red Way Airlines announced earlier this week it would cease operations at the Lincoln Airport at the end of the month.Foley has concerns about what happened to the $3 million Federal American Rescue Plan Act money the city and Lancaster County gave to the airline to come to Lincoln in the first place. "I'm hearing $2 million, $3 million. Some people are saying, no, no, no, that's that's not all of it. There's more," Foley said.In a letter to the Lincoln Airport Authority Friday, Foley said his office will take a deep dive into all of the funding received by Red Way and expenditures the airport made to support the airline."We're going to look at all of that and look at the flow of the federal funds into the state and who really did what and why," Foley said.He said people in the travel industry were calling with concerns."Red Way Airlines really isn't an airline. They have no planes. It's basically a website where you sign up for tickets to buy tickets. And then it's actually a Global Crossings jet that flies you to your destination," Foley said.Lincoln Airport Board Chairman John Olsson said in statement: "The Lincoln Airport Authority (LAA) announced on Thursday, that we are preparing a comprehensive audit process in relation to the operations of Red Way at the Lincoln Airport. The audit will ensure transparency, compliance and efficiency in all aspects of Red Way's departure from LNK. Today we received notice from State Auditor Mike Foley that they too will be conducting an audit with respect to Red Way. LAA looks forward to cooperating with the State Auditor, as well as our community partners — the Lancaster County Board and the Lincoln City Council — to coordinate all efforts to ensure a transparent audit process moving forward.""I realize the Lincoln Airport Authority did this with the best of intentions. They're trying to build out air service in Lincoln. That's a great goal," Foley said.But he believes taxpayers should know exactly what they paid for."Was quite a riverboat gamble. And it didn't work, obviously. And the taxpayers are out a lot of money," he said. KETV Newswatch 7 reached out to Red Way Airlines. A spokesperson said in a statement: "Red Way is aware of the request and will cooperate without hesitation and provide 100% of details with full transparency."Get the latest headlines from KETV NewsWatch 7
LINCOLN, Neb. —
Nebraska's state auditor has a failed Lincoln airline service on his radar.
Mike Foley wants to know how Red Way Airlines took millions of dollars of federal pandemic stimulus money only to pull its service after just three months.
Red Way Airlines announced earlier this week it would cease operations at the Lincoln Airport at the end of the month.
Foley has concerns about what happened to the $3 million Federal American Rescue Plan Act money the city and Lancaster County gave to the airline to come to Lincoln in the first place.
"I'm hearing $2 million, $3 million. Some people are saying, no, no, no, that's that's not all of it. There's more," Foley said.
In a letter to the Lincoln Airport Authority Friday, Foley said his office will take a deep dive into all of the funding received by Red Way and expenditures the airport made to support the airline.
"We're going to look at all of that and look at the flow of the federal funds into the state and who really did what and why," Foley said.
He said people in the travel industry were calling with concerns.
"Red Way Airlines really isn't an airline. They have no planes. It's basically a website where you sign up for tickets to buy tickets. And then it's actually a Global Crossings jet that flies you to your destination," Foley said.
Lincoln Airport Board Chairman John Olsson said in statement: "The Lincoln Airport Authority (LAA) announced on Thursday, that we are preparing a comprehensive audit process in relation to the operations of Red Way at the Lincoln Airport. The audit will ensure transparency, compliance and efficiency in all aspects of Red Way's departure from LNK. Today we received notice from State Auditor Mike Foley that they too will be conducting an audit with respect to Red Way. LAA looks forward to cooperating with the State Auditor, as well as our community partners — the Lancaster County Board and the Lincoln City Council — to coordinate all efforts to ensure a transparent audit process moving forward."
"I realize the Lincoln Airport Authority did this with the best of intentions. They're trying to build out air service in Lincoln. That's a great goal," Foley said.
But he believes taxpayers should know exactly what they paid for.
"Was quite a riverboat gamble. And it didn't work, obviously. And the taxpayers are out a lot of money," he said.
KETV Newswatch 7 reached out to Red Way Airlines.
A spokesperson said in a statement: "Red Way is aware of the request and will cooperate without hesitation and provide 100% of details with full transparency."
Article source: https://airlines.einnews.com/article/652056509/7LuaqNLncXGHXFKL?ref=rss&ecode=vaZAu9rk30b8KC5H