Iran's has dismissed a lawsuit filed with the International Court of Justice by four countries over a Ukraine airliner downed in 2020 as politically motivated.
As the case drags past its third year, Western powers are growing tired of Iran's lack of action and are now escalating to the global legal body, the principal judicial organ of the United Nations, filing action on July 5.
The case, listed as "concerning a dispute under the Convention for the Suppression of Unlawful Acts against the Safety of Civil Aviation (the "Montreal Convention"), is a desperate bid to help gain justice for the families of the flight PS752 of January 8 2020, on which all 176 people on board died when it was downed by Iranian missiles.
The plane, which was en route to Kiev and transporting mostly Iranians, crashed minutes after takeoff near the Iranian capital, shot down by Iran's air defenses amid tensions between Tehran and Washington following the US assassination of IRGC's Qassem Soleimani in Iraq days earlier.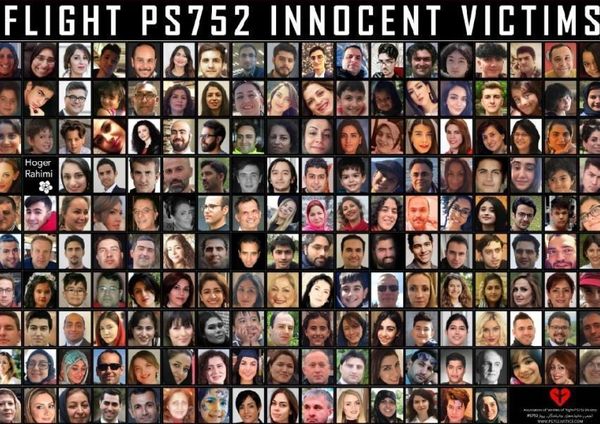 Victims who died when Iran shot down a Ukrainian passenger plane over Tehran.
The regime has since been claiming to be open to talks for years since the tragedy but nothing has moved forward since other than some low level prosecutions, several of which have even since been appealed.
In a press release last week, the ICJ stated that the the United Kingdom, Canada, Ukraine and Sweden "claim that Iran has violated a series of obligations under the Montreal Convention as a result of the shooting down on 8 January 2020 of a civil aircraft in service, Ukraine International Airlines Flight PS752, by military personnel of Iran's Islamic Revolutionary Guard Corps".
In the application, the joint statement accuses Iran of having "failed to take all practicable measures to prevent the unlawful and intentional commission of an offence described in Article1 of the Montreal Convention, including the destruction of Flight PS752. It also subsequently failed to conduct an impartial, transparent, and fair criminal investigation and prosecution consistent with international law".
In a typically dogmatic response, Iran's foreign ministry said Monday that the escalation of the case to the ICJ is only serving "political objectives", and maintains that the country formed an independent technical group right after the incident and took necessary actions "with goodwill, transparency, and utmost seriousness" to investigate.
"Following the tragic incident involving the Ukrainian plane, the Islamic Republic of Iran has officially, in accordance with domestic laws, international commitments, and with goodwill, transparency, and utmost seriousness, taken necessary actions to shed light on various aspects of the incident," the statement said.
However, Canda and Ukraine have repeatedly complained that Iran has stonewalled and not cooperated in allowing an independent investigation.
The recent join application reflects the growing fatigue not only for the scores of families left devastated, but for the global powers fighting for justice.
Last year, Marilyne Guèvremont, a spokesperson from Global Affairs Canada, said the issue had become futile, with inaction from Iran making any attempt at discussions in vain. She told Iran International: "We are now focused on the subsequent actions to resolve this matter in accordance with international law. We will not rest until the families get the justice, transparency and accountability from Iran that they deserve."
Article source: https://airlines.einnews.com/article/644041036/DnV03sKrq01pR02A?ref=rss&ecode=vaZAu9rk30b8KC5H