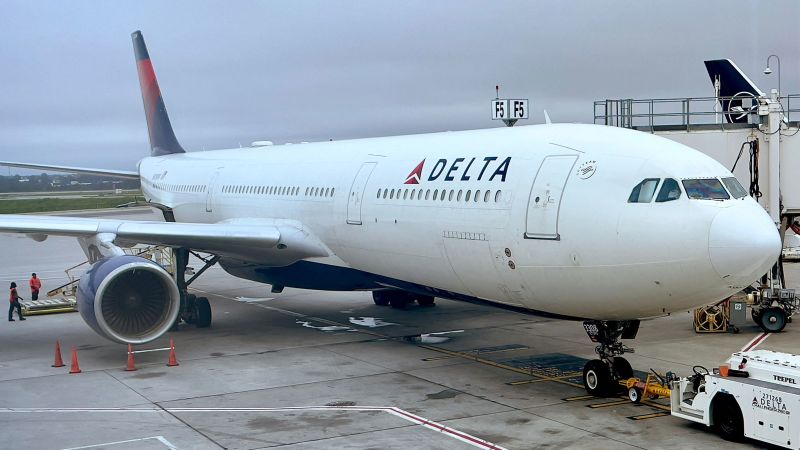 A Delta Air Lines flight from Michigan to Florida was diverted to Atlanta on Wednesday due to an incident with an unruly passenger, the airline said in a statement.
Delta did not provide details but said its representatives are "in contact with our flight attendant to provide support and are cooperating with authorities in their investigation."
"Delta does not tolerate threats and abuse of any kind towards our people. At Delta, the safety and wellbeing of our customers and crew is, and will always be, our number one priority," the airline said in a statement to CNN.
The aircraft was diverted after taking off from Detroit and landed safely at Atlanta's Hartsfield-Jackson International Airport around 11:30 a.m. ET, the Federal Aviation Administration said.
Atlanta Police Department officers met the plane at the gate in Atlanta before the flight continued to its destination in Ft. Lauderdale, Florida, with a new crew, Delta said.
The FBI in Atlanta said it was aware of the incident.
"There have not been any charges filed nor arrests made. We don't have any further information to share at this time," the FBI said in a statement.
The FAA has received reports of more than 850 unruly airline passengers in 2023 as of June 18, the transportation agency's statistics showed.
Delta in its statement said it has "long been a leading advocate on behalf of our people and our customers to ensure the aggressive and timely prosecution of unruly passengers."
Earlier Wednesday morning, another Delta plane landed with its nose gear still up on a runway at Charlotte Douglas International Airport in North Carolina, the FAA said. No injuries were reported and the FAA is investigating why the nose gear did not extend during landing.
Article source: https://airlines.einnews.com/article/642068092/WjCRrY3Z_A7kZ19z?ref=rss&ecode=vaZAu9rk30b8KC5H