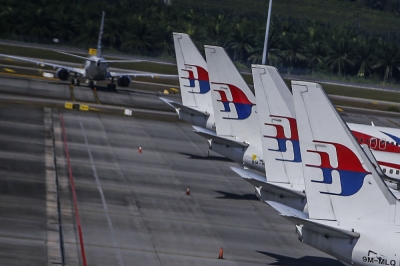 KUALA LUMPUR, June 16 — Brahim's Holdings Bhd has claimed that Malaysia Airlines Bhd had put in unfair terms for a new three-year contract for it to provide in-flight catering to the national airline, local daily New Straits Times (NST) reported today.
Following its news report yesterday that Brahim's Holdings' 25 years of in-flight catering partnership with Malaysia Airlines may be ending, the NST today reported Brahim's as explaining why the company's existing contract — scheduled to end June 30 -— would not be extended and why both companies failed to agree on a deal.
Brahim's group CEO Mohd Fadhli Abdul Rahman reportedly said the firm had signed all 12 of the termination clauses in the new three-year contract except the "termination for convenience" clause, claiming that Malaysia Airlines had inserted this clause — where a party can end the contract without any valid reason and with a one-month notice — "out of the blue".
According to the NST, Brahim's had then negotiated to add a "contract fulfilment charge" if Malaysia Airlines were to impose the "termination for convenience" clause.
Brahim's initial proposal for the "contract fulfilment charge" involved complex calculations, but both companies agreed to simplify the calculations by using Malaysia Airlines' three-month average revenue, multiplied by the remaining tenure of the contract.
Mohd Fadhli claimed that Malaysia Airlines then went on to propose a modification of the formula, where the airline intended to pay only the margin at 1.6 per cent (by multiplying it with the three-month average revenue multiplied with the remaining tenure).
"It's like you're speeding and get a RM300 speeding ticket, and the police immediately give you a 98.4 per cent discount. For the RM300 summons, you pay only RM4.80. Do you think I can accept that? Of course, I rejected it. After that, they offered us a 10 per cent margin. Why 10 per cent?"
"I'm willing to negotiate but please don't insult us. We're asking Malaysia Airlines to be fair," he was reported saying by NST.
Currently, Brahim's and Malaysia Airlines respectively own a 70 per cent stake and 30 per cent stake in Brahim's Food Services Sdn Bhd (BFS), which has a central catering kitchen and 35 foreign airlines as its clients.
Fadhli reportedly said Brahim's knew that Malaysia Airlines had always been eager to manage their own catering, and that Brahim's had offered to let the airline buy over its 70 per cent stake in BFS to allow the airline to have full control of the catering firm.
But he reportedly claimed that Malaysia Airlines had offered to pay RM50 million to buy over the 70 per cent stake, and said he could not agree to this sum.
This was because Brahim's had paid RM170 million in 2003 to buy over MAS Catering Sdn Bhd, and had also absorbed the latter company's negative equity of RM240 million.
While Fadhli said that Malaysia Airlines asked for the catering services to be extended for two months (July, August) while talks continue, Brahim's will stick to the June 30 expiration of their contract if they fail to agree on a deal, NST reported.
Fadhli reportedly said there are now less than two weeks before the partnership ends unless a solution is found.
While NST reported Brahim's as indicating that thinning margins had caused service quality to drop, it also reported Malaysia Airlines parent company Malaysia Aviation Group as claiming that Brahim's was one of its vendors that could not keep its standards high.
According to NST, Malaysia Aviation Group managing director Datuk Captain Izham Ismail recently told the newspaper that it wanted to use its RM4.7 billion cash reserve to shift some of its services in house and work with new third-party vendors, where he said that food is the airline's challenge and that its caterer Brahim's is a company with PN17 status or a listed company in financial distress.
"They're not giving us good products. Who gets the blame? Malaysia Airlines," Izham was quoted saying.
Article source: https://airlines.einnews.com/article/639802950/83wNvvMhQ2GMDIOH?ref=rss&ecode=vaZAu9rk30b8KC5H