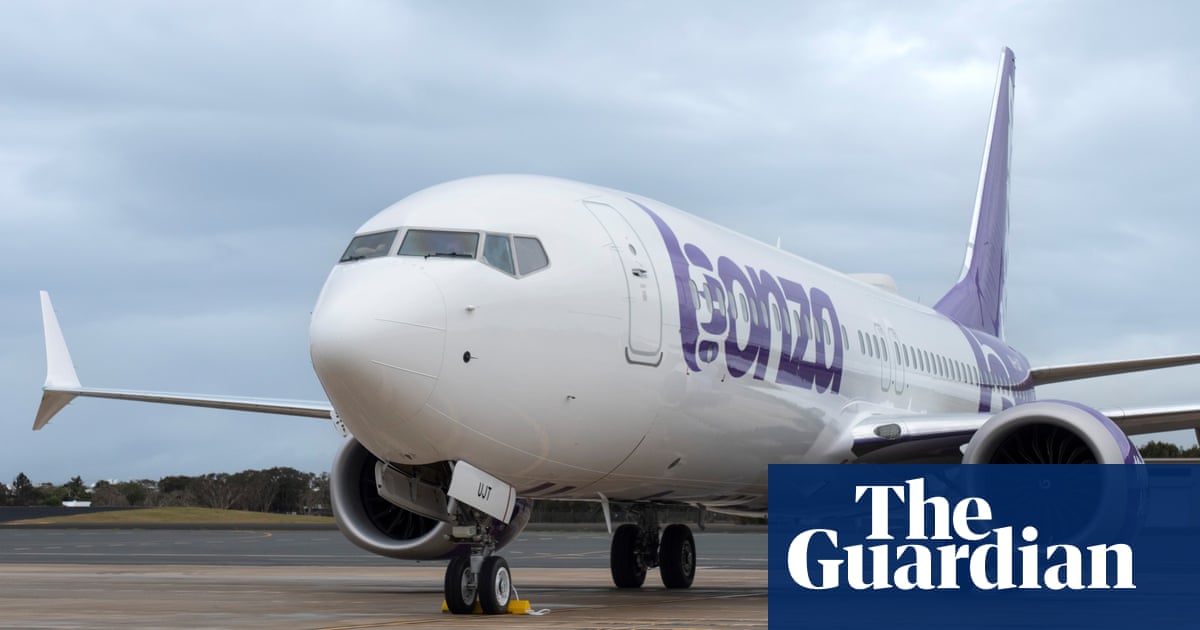 Bonza will axe five routes servicing regional Australia due to low patronage months after launching, as the fledgling budget carrier laments a series of bird strikes for hampering its reliability.
There was also more encouraging news in an open letter to customers released on Thursday – demand for flights from the Sunshine Coast to Albury and Melbourne's Avalon airport, as well as between Melbourne's Tullamarine airport and Port Macquarie, has been so strong that Bonza will add an additional flight each week on these routes.
From 1 August Bonza's network will be cut from 27 routes to 22, when services are discontinued from its Sunshine Coast base to Coffs Harbour, Port Macquarie and Tamworth.
The network adjustment means Bonza will no longer service Coffs Harbour – the flight to the Sunshine Coast is now the only service offered from that airport.
Bonza – which launched in January – will also cease flights between Cairns and Mackay, and Toowoomba and Whitsunday Coast. Frequencies will be reduced on other routes.
Customers booked on affected routes will be issued refunds or offered an alternate flight with Bonza "depending on their scenario".
Carly Povey, Bonza's chief commercial officer, noted that demand for some routes from the Sunshine Coast and from Melbourne's Tullamarine airport had been so strong that the airline will consider further services in the future.
She said the Albury to Sunshine Coast route had been the airline's "shining star", with half of all flights in June 100% full.
Launching flights out of Sydney airport remains a goal of the airport, but Povey echoed the chief executives Tim Jordan's comments that access to meaningful slots at the airport meant expansion was not yet tenable.
Povey told Guardian Australia the decision to consolidate its network had been made "potentially a bit earlier" than planned but a range of misfortunes had meant the airline needed to act to reduce flight cancellations.
"Statistically we've been very unlucky. We've had 10 bird strikes in nine weeks, and when that happens it can genuinely lead an aircraft to be grounded for three or four days, and that in turn slows down pilot training."
The airline has also struggled with its relatively small fleet – it has taken delivery of four Boeing 737-Max 8 aircraft since its first flight at the end of January. Povey said Bonza was expecting its fifth plane "towards the end of the year at the earliest".
Additional aircraft intended for the airline have been redirected elsewhere, in one instance to Poland due to the airline not being ready to pilot an extra plane.
But delivery of another 737-Max 8 was redirected to the Canadian low-cost carrier Flair – another subsidiary of 777 Partners, the US private equity firm that funded Bonza's establishment and is its largest single shareholder.
That followed four of Flair's aircraft being repossessed this year due to missed payments and debts.
Last week 777 Partners said it looked forward to "vigorously defending" a lawsuit filed in Delaware in the US by its former principal Timothy O'Neil-Dunne.
While the legal action relates to his time with the group, it also includes claims that 777 Partners – which also invests in fintech, litigation and sports teams including Melbourne Victory – financially exploited its subsidiary airlines by overcharging for the planes it leases to them.
Canadian media reported Flair was repaying a loan to 777 Partners at 18% interest.
Regarding the allegations of lease overcharging, Povey told Guardian Australia: "Let me put it this way, it has been a significant journey to get where we are today. It was 15 months of investment and support to get Bonza off the ground."
"We simply wouldn't be here today if it weren't for 777 Partners. We've been incredibly supported and it's hard to break through in the Australian market given the duopoly, and they believe in what we do."
777 Partners said "the allegations in the lawsuit are frivolous, and 777 Partners look forward to vigorously defending our case".
"All leasing relationships have been struck at an arm's length, fully commercial basis with respect to all terms and conditions. We vehemently deny any accusations stating we are seeking to disadvantage the airlines as it would simply be illogical and counter to our own interests. We remain steadfast in our support of the airlines we work with."
In 2021 Bonza announced its plan to run low-cost, low-frequency flights between regional and holiday destinations that are not now serviced by existing carriers, but it was forced to wait until January to gain regulatory approval and begin operations.
Its executives cultivated a brand that had seen it dubbed the "bogan" airline, making headlines by offering budgie smugglers in its inflight shop and for shunning traditional travel outlets to only sell tickets through its smartphone app.
In June Bonza, together with Rex Airlines, led calls for the federal government to make it easier for airlines to introduce flights at Sydney airport and challenge Qantas and Virgin, by reforming the slot allocation legislation immediately, without waiting for the aviation white paper process slated for 2024.
Do you know more about Bonza and 777 Partners? Contact elias.visontay@theguardian.com
Article source: https://airlines.einnews.com/article/644279594/AaXyydxpkpo20k3M?ref=rss&ecode=vaZAu9rk30b8KC5H