Qantas Group CEO, Alan Joyce, has advised the board he will bring forward his retirement by two months, after a damaging few weeks for the airline.
As a result, Vanessa Hudson will assume the role of managing director and group CEO effective 6 September 2023.
The New South Wales government has returned to the table with a pay deal that would make public teachers the best paid in the nation.
Teachers have rallied outside the offices of premier, Chris Minns and deputy premier Prue Car in recent weeks after negotiations with the NSW Teachers' Federation stalled in July. The union was considering taking industrial action this month.
Today, Car has confirmed after "positive discussions" with the teachers' union, the federation is now considering a renewed offer made by the state government.
The four-year-agreement would raise the starting salary for a NSW teacher from $75,791 to $85,000 and the salary for top of the scale teachers from $113,042 to $122,100.
Wages in the following three years will continue to rise in line with the state government's wages policy. The offer will require the agreement of the Teachers Federation Council on Saturday.
Car said the state government was "hopeful" the agreement would be made.
Negotiating an outcome that demonstrates respect to teachers has always been my highest priority. In order to tackle the teacher shortage crisis we must restore respect to the teaching profession, so teachers are free to do their jobs without additional stress.

While there is much more to do, today marks an important step forward as we continue working to rebuild our state's education system."
Joyce's early retirement comes as Qantas' image has taken a battering in recent weeks.
The decision just comes days after the Australian Competition and Consumer Commission (ACCC) last Thursday announced it was taking legal action against the airline over damning allegations it had been selling tickets to more than 8,000 flights it had already cancelled in its system.
However, even Qantas itself conceded its image had been "hit hard on several fronts" due to soaring customer dissatisfaction – it was the most complained about company to the ACCC for the past two years – stubbornly high airfares, thousands of job cuts, and refusing to hand back billions in jobkeeper and government subsidies even as the airline posted a record $2.47bn profit in late August.
Pressure on Joyce and senior Qantas leaders had been building this week, with the airline's board urged to withhold millions of dollars in executive bonuses.
In Canberra, momentum has also been building to investigate the airline's special relationship with government, with a focus on the decision to reject Qatar Airways' request to almost double its capacity into Australia and the influence of Qantas in the refusal.
In the midst of all of that, Tony Burke held a quick press conference to talk about how the government's 'closing loopholes' bill (the gig economy legislation he introduced yesterday) will help truck drivers.
Burke says the legislation will mean:
The Fair Work Commission will have discretion on what those minimum standards will cover, such as fair payment terms, and must be satisfied that its orders won't adversely impact the viability or competitiveness of road transport contractor drivers.

A road transport expert panel will be established within the Fair Work Commission to hear applications for standards, guided by advice from a road transport industry advisory group, ensuring the Commission has the road transport expertise it needs.

Before making a road transport minimum standards order, the Fair Work Commission must also ensure:

There has been genuine engagement with the parties to be covered.

It has consulted the road transport advisory group and its subcommittees.

The order takes into account the commercial realities of the industry.

The order will not adversely affect the viability and competitiveness of owner drivers.
And just to head off the coming criticism, Burke's statement says these proposed changes "follow extensive consultation with the industry and unions".
University of South Australia launches new certificate in childhood trauma
The University of South Australia has launched Australia's first postgraduate degree to support frontline workers responding to child abuse.
The online certificate in childhood trauma was developed in the wake of the royal commission into institutional responses to child sexual abuse, which recommended more training and workforce capacity building for foster carers and relatives, residential care staff and child protection workers.
Deputy director in the Australian centre for child protection, Amanda Paton, said abuse was easy to miss if you didn't know the signs.
She said social workers and psychologists often graduated from university without any understanding of child sexual abuse or signs of trauma.

It often gets misdiagnosed as autism or developmental disorders because most people working in the sector have not received adequate training.

With nearly one in four individuals across the nation reporting an experience of child sexual abuse, enhanced workforce support in this area is critical.
Analysis released by the eSafety commissioner today found one in eight complaints of child sexual abuse material was self generated, involving perpetrators directing children to perform explicit acts on their phone or webcam.
The eSafety commissioner, Julie Inman Grant, said perpetrators were sliding into DMs on online games and social media to groom children, overwhelmingly girls.
Well, that news is certainly going to focus the parliamentary agenda today.
The Qatar Airways decision inquiry push probably just got a little bit more of a boost too.
We'll bring you the reactions as soon as they hear.
'Challenging time' for company, Qantas chair says in statement on Joyce's departure
As for the rest of that statement, here is what the Qantas chairman, Richard Goyder, had to say:
Alan has always had the best interests of Qantas front and centre, and today shows that. On behalf of the Board, we sincerely thank him for his leadership through some enormous challenges and for thinking well-ahead on opportunities like ultra long-haul travel.

This transition comes at what is obviously a challenging time for Qantas and its people. We have an important job to do in restoring the public's confidence in the kind of company we are, and that's what the Board is focused on, and what the management under Vanessa's leadership will do.
As planned, shareholders will formally vote on the appointment of Vanessa Hudson as managing director at Qantas's annual general meeting in November.
Qantas 'needs to move ahead with its renewal', Joyce says in ASX statement
In the Qantas statement to the ASX, Alan Joyce said it had become clear to him the focus needed to be on renewal. Vanessa Hudson will assume the role of managing director and group CEO from tomorrow, 6 September.
Joyce:
In the last few weeks, the focus on Qantas and events of the past make it clear to me that the company needs to move ahead with its renewal as a priority.

The best thing I can do under these circumstances is to bring forward my retirement and hand over to Vanessa and the new management team now, knowing they will do an excellent job.

There is a lot I am proud of over my 22 years at Qantas, including the past 15 years as CEO. There have been many ups and downs, and there is clearly much work still to be done, especially to make sure we always deliver for our customers. But I leave knowing that the company is fundamentally strong and has a bright future.
Qantas Group CEO, Alan Joyce, has advised the board he will bring forward his retirement by two months, after a damaging few weeks for the airline.
As a result, Vanessa Hudson will assume the role of managing director and group CEO effective 6 September 2023.
Oops – my mistake, Anthony Albanese is still in town – he will be leaving sometime this afternoon. So he is still in town and will be in QT.
And the party room meeting. So acting prime minister Richard Marles won't be happening until later.
Apologies etc
Kerrynne Liddle says 'nobody wins' in 'divisive' voice referendum
Liberal senator and Arrernte woman, Kerrynne Liddle is on ABC News Breakfast speaking about the voice.
Yesterday on ABC radio RN, Liddle explained what she believed was needed to help Indigenous communities – and it sounded a lot like the voice.
But she is still team no;
I think the prime minister has had many occasions in the last 12 months to read the mood and separate constitutional recognition from voice. And I think that's – I held the position for a very long time – that it is unfortunate that we are looking at this from a win-lose proposition. Nobody wins from this referendum being conducted in this way and in such a divisive way.
NSW government to give result of energy 'checkup' with Eraring plans in focus
The Minns government in New South Wales will this morning reveal the result of its "checkup" of the state's energy security.
Much of the focus will be what the Labor government plans to do with Eraring, the 2880-megawatt power station near Newcastle. Origin Energy has set an August 2025 closure date for the coal-burning plant.
Media will get a briefing and media conference with the energy minister, Penny Sharpe, from 11am AEST. Without jinxing things, it is possible that there won't be a definitive decision – as in, negotiations with Origin haven't been completed. Let's see.
As we saw yesterday, the former Coalition energy minister Matt Kean put the cost of extending just two of the four units at the plant for two years at a net $3bn:
The premier, Chris Minns, Sharpe and others said they hadn't been briefed about a number that large. If it's the case that talks with Origin are ongoing, there may not yet be an estimated cost.
Within Labor, there's a frustration that the Coalition privatising the power sector about a decade ago had placed them in the muddle they now face. Origin paid just $50m for the giant plant (and even received $300m for a cancelled coal contract.)
Bandt asked about Labor criticism of Greens getting 'too close' to Coalition
Adam Bandt is asked about criticism (from the government) that the Greens are getting "too close" to the Coalition, because occasionally the two parties have fallen on the same side of some of these issues (calling the government to account).
Bandt says the guiding principle for the party is what is in the best interest of the people everyone in parliament is representing;
We will push the fight for public interest into the people's interest. We don't take the donations from the big corporations. We're there to back the people and to back openness and transparency. And that's our guiding principle and that's why we'll have a look at any proposals and will seriously consider any proposals that are put.
Greens party room to consider push for revealing security advice on reduced reporting of RAAF VIP aircraft
There is a push from the Senate to have the security advice the government received to justify the reduced reporting of the RAAF VIP aircraft (the special purpose flights) used by ministers.
Will the Greens be supporting that?
We'll have a look at that proposal. Again, our party room is meeting this morning. So we'll have a look at proposals that are being put our inclination is for transparency. If the government says that there's there's particular reasons that they can't produce certain information, then it's up to them to make that case and previous governments have done that and sometimes it gets accepted and sometimes it's not.

But the starting point should be you produce it and you show it to the people unless there's some good reason not to, and again, we're yet to hear any good reasons not to be open and fully transparent.
Question of transparency over Richard Marles' flight details, says Bandt
On deputy prime minister Richard Marles' flight bill, Adam Bandt says it is again an issue of transparency:
John Howard, in his government, released the details of flights that were taken at public expense. And we're asking for the same rules to apply here.

So for us again … the first question is, let's just be transparent about this. It's a significant sum of money, and previous governments have been upfront about how this money [was used], how these costs were incurred.

And we think this government should just continue the practice of previous governments and disclose this information. And we're yet to hear a convincing explanation as to why that information won't be disclosing, given the previous governments have done it.
'Practise what you preach': Bandt says Labor must answer outstanding questions on notice
Back to Adam Bandt, and the Greens leader is asked about Sarah Basford Canales' story about the outstanding questions on notice the government has on the notice paper.
Bandt says the government has to walk the walk as well:
I don't know whether it's deliberate. That's the question you'd have to ask the government, but the we know that a lot of questions aren't being answered.

There are questions that we want answered as well. And I think transparency should apply when you're in the opposition benches as well as from the government benches as well.

Like you can't just do it from opposition – you have to practise what you preach when you're in government too. [That's one] of the reasons that we're pushing to see what advice was given about the Qatar decision. We do need … transparency and we can't just have it as something that you say from opposition.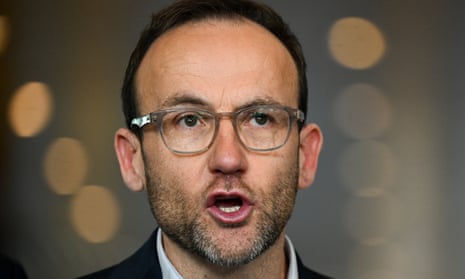 Article source: https://airlines.einnews.com/article/653764907/zsMiIRwNq8hC9mtA?ref=rss&ecode=vaZAu9rk30b8KC5H