A top comic who was onboard the American Airlines flight that went viral after video emerged of a woman shouting she was getting off because "that motherf***** back there is not real" has revealed that he originally thought he was the topic of her rage.
Scott Thompson, better known as prop comedian Carrot Top, discussed the incident during an appearance on Fox News Friday.
Video of the incident, which took place on a flight from Dallas Fort Worth Airport, was posted on social media platform TikTok on Sunday.
In the footage, a visibly distressed woman can be seen striding down the aircraft's central isle, shouting: "There's a reason why I'm getting the f*** off and everyone can either believe it or not believe it, I don't give two f****, but I am telling you right now that motherf***** back there is not real.
"And you can sit on this plane and you can f****** die with them or not, I'm not going to."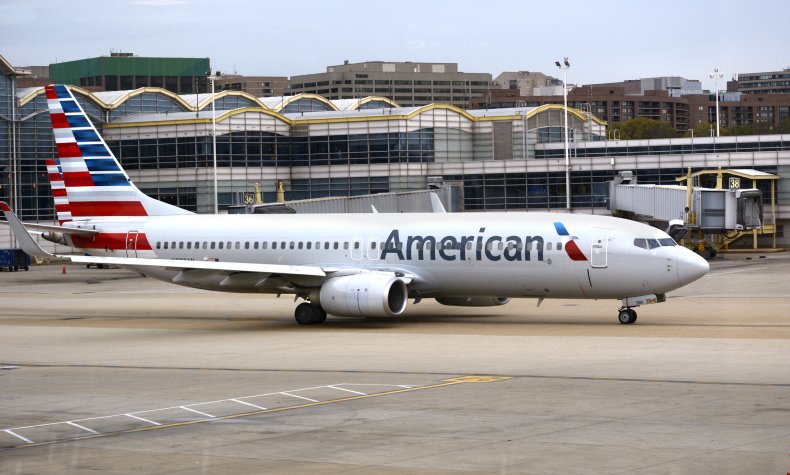 The video attracted millions of views on TikTok and other social media platforms, sparking speculation about what the woman were referring to.
Thompson told Fox News he first thought the woman was involved in a domestic dispute, then feared she was referring to him.
He commented: "As she got closer and she was pretty much right next to me she said something about 'that guy's not real' so I thought 'oh it's a bad domestic fight,' like she brought this guy on a date and he's not real, he'd promised her a weekend in whatever and it derailed.
"To get her off we all had to get off because they thought there was something else going on, we sat off the plane for about four hours, and then I have news that she tried getting back on the plane which was funny."
Thompson, who is known for his flamboyant reddish hair, continued: "It did happen so fast…she kept saying 'that guy's not real,' I thought oh she's probably talking about me or my hair, this guy's hair's not real, but they did get her off the plane.
"Everyone was very calm and cool, American Airlines handled it perfectly, they very calmly got her off the plane and they came around and spoke to us and got us off the plane."
Newsweek has contacted American Airlines by email asking for comment.
In a statement sent to The Independent the airline said: "American Airlines flight 1009, with service from Dallas-Fort Worth (DFW) to Orlando (MCO), returned to the gate due to a disruptive customer. The flight was met at the gate by local law enforcement and the customer was removed from the flight."
There was major airline disruption earlier this week with around 1,200 flights being cancelled on Wednesday alone, according to data from flight-tracking website FlightAware.
In July 2022 a flight from London to Los Angeles was diverted to Salt Lake City due to a disruptive passenger, who had to be restrained by other passengers and members of the flight crew.
Article source: https://airlines.einnews.com/article/643683735/qXJJ33GWzbqcXDTE?ref=rss&ecode=vaZAu9rk30b8KC5H