After a very busy morning and a Starbucks coffee for breakfast, I rushed to Honolulu International Airport to catch my American Airlines Airbus A321 Neo flight on a 5 1/2-hour journey to Los Angeles last week.
I had 10 minutes to use my Priority Pass lounge pass to enjoy the IASS Lounge at Honolulu International Airport, only to see there was absolutely no food, old coffee, and some juice containing 65 grams of sugar.
As an American Airlines Aadvantage Executive Platinum member, the highest category for loyalty one can reach, I was hoping my complimentary upgrade for my flight to Los Angeles may go through.
Unfortunately, this LA flight was completely booked. The airline even asked for volunteers to go on a later flight.
The Airbus A321 used for this segment is also a narrow aircraft. Toilets are so small making it a challenge to turn around in there.
The A321 has gained popularity among airlines due to its versatility, fuel efficiency, and ability to serve both short-haul and medium-haul routes. It offers a balance between passenger capacity and range, making it suitable for a wide range of operations.
Flying more than 5 hours over the ocean is stretching the medium route impression and the capacity of this aircraft.
Popular WIFI is no longer available on this trans-ocean flight.
Passengers can only use their own computer or phone to watch the inflight entertainment.
No chance to get a free headset other airlines such as United are offering it for coach passengers on the B737, a similar aircraft.
I didn't really care much about movies on this flight, but was starving. I realized sitting in coach on American Airlines may only provide an opportunity to purchase a sandwich or a hot meal, but even here I was wrong.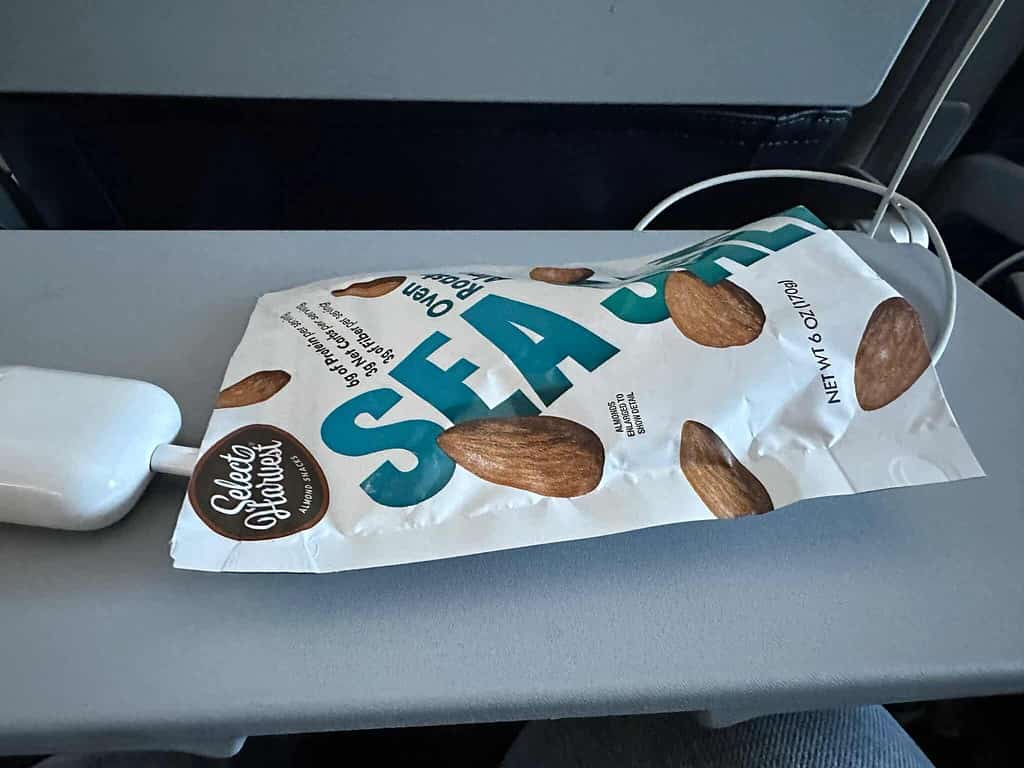 My food for the next 5 hours was a pack of $8.00 Sea Salt Almonds. To be fair, since I am an executive platinum member the almonds were given complimentary along with some lukewarm water.
It was served to me by a flight attendant who was irritated when I asked her if I could purchase also a meal.
She said something I couldn't clearly understand. When I asked her to repeat, she just threw the almonds on my table and said they were complimentary because I was an Exec P. 0.
I didn't know what that was and asked again what this means, and she walked away with a mean look on her face.
I did some research and it stands for Executive Platinum member.
I earned this status not by flying American Airlines often, but by flying AA's One World partner Qatar Airways excellent business class a lot.
On Qatar Airways, you get a delicious hot meal even on one-hour coach flights.
The featured image shows my lunch on a one-hour economy flight on FLYNAS earlier this month from Dubai to Riyadh. Airlines can do better, and they do on flights outside North America.

flynas.com
The American Airlines flight attendant simply didn't enjoy her job – and it showed.
Flying home from Los Angeles to Honolulu 2 days later I changed to United Airlines. I am a 3 million mile flyer and 1K for life with United Airlines and Star Alliance. This is the highest status one can earn for flying a lot.
I enjoyed this status for almost 30 years and always feel more at home when flying the friendly skies.
Service on United also went way down from the glory 747 days in the 80′ and 90′, but I guess we all accept this as we go.
What is better? 1K with United or Executive Platinum with American Airlines?
1K status really means something to everyone working at United Airlines. Calling the dedicated 1K number never has a long waiting line, and you speak to someone qualified with authority to bend the rules if necessary.
Calling the platinum executive line for American Airlines means long waits and speaking to someone who has no authority to do much, and who makes promises that aren't true.
I lost several thousand dollars in the process with American Airlines with no recourse to retrieve it.
My flight credit was wiped out because I didn't use it for a year and relied on misleading statements. I tried not to make this a point for my comments on the LAX to HNL flight.
Flying back home to Honolulu, I booked United Airlines three days later.
United Airlines operates the Boeing 777 as part of its fleet between Hawaii and the West Coast. The Boeing 777 is a wide-body, twin-engine jet airliner known for its long-range capabilities and spacious interior.
To be fair again, United Airlines also uses the Boeing 737, a similar aircraft to the Airbus Neon on some of the Hawaii-bound flights. I always make sure to avoid such flights, especially the B737-Max.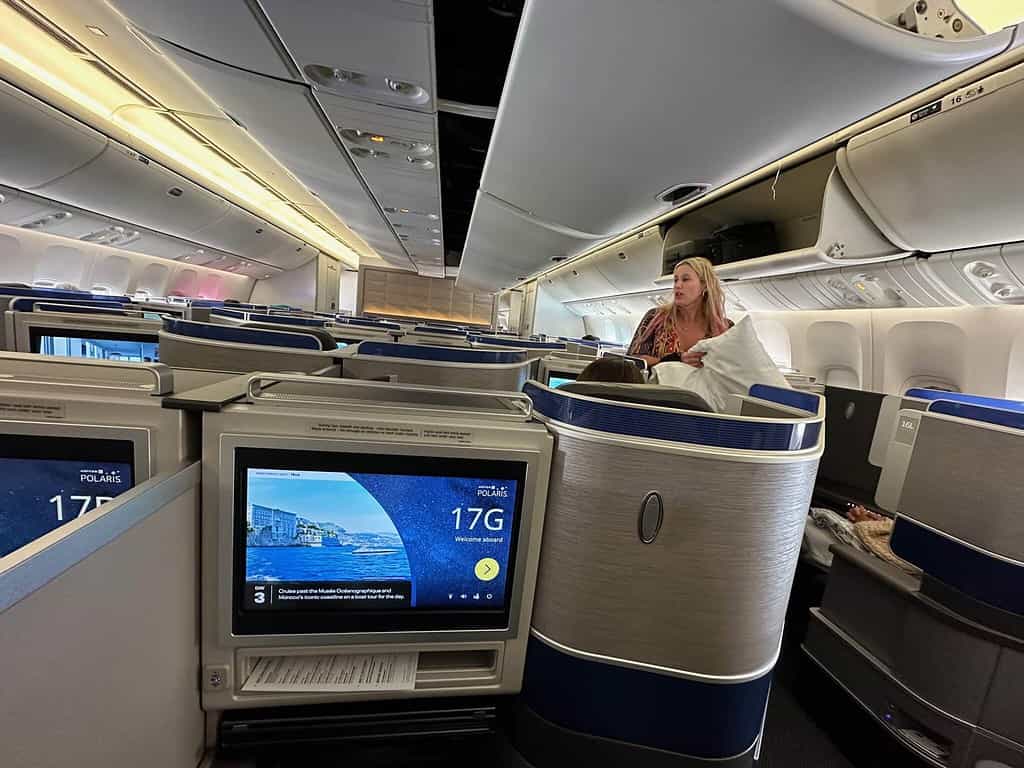 I did make my upgrade on United, as I usually do, and enjoyed the Polaris-style sleeper seat on my flight home. The flight came with noise-reducing stereo headsets. You have the choice and can watch hundreds of movies and TV shows on demand.
I watched a classic movie: "Cabaret" and truly enjoyed it.
WIFI was available over that water and the flight attendants went out of their way to recognize my status and kept asking me what else they could do.
A delicious Thai-style chicken was my choice. Other choices were Beef or vegetarian dinner, all served with salad and a dessert.
Of course, this is not to compare with meals Qatar Airways, Emirates, Thai or Ethiopian Airlines would serve on equally long flights, but it was acceptable.
When I turned my seat into a sleeper and covered myself with the Saks Fifth Ave blanket, a flight attendant helped me to straighten out my blanket.
The warmed cookie in a plastic bag served before landing in Honolulu on a porcelain plate made me smile, but so did the friendly flight attendants.
It was a pleasant ending to my trip.
Even though United Airlines Passengers are losers according to Star Alliance Partner Lufthansa, I think they are winning the North American competition at this time.
Article source: https://airlines.einnews.com/article/644754602/eXSFOzKqatyI_oeM?ref=rss&ecode=vaZAu9rk30b8KC5H