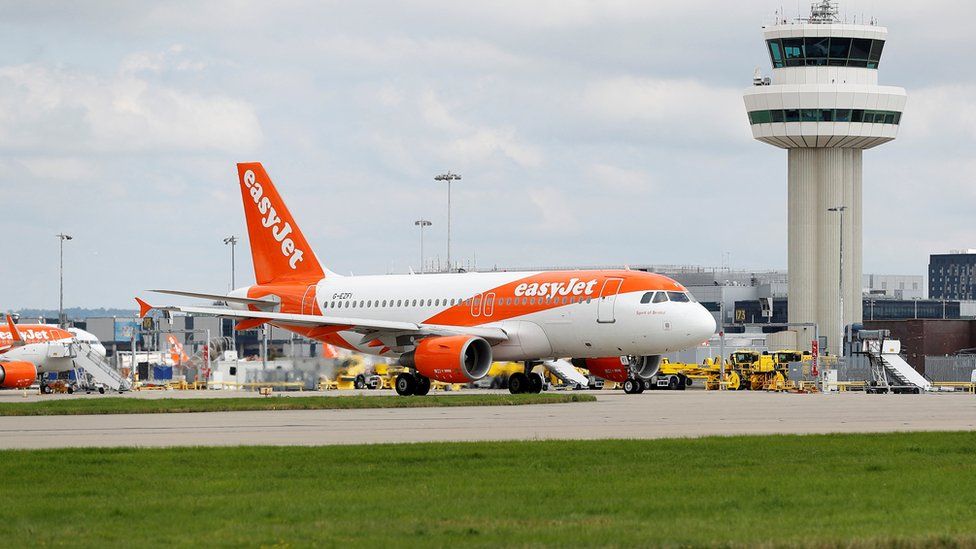 A "technical issue" has hit UK air traffic control systems, with thousands of people now facing flight delays.
Holidaymakers are stuck all over the UK and abroad, with the National Air Traffic Services saying it had applied restrictions to traffic flow for safety.
NATS said a technical issue was affecting its "ability to automatically process flight plans".
They added they were working to solve the issue "as quickly as possible".
"Until our engineers have resolved this, flight plans are being input manually which means we cannot process them at the same volume, hence we have applied traffic flow restrictions," NATS said.
It had earlier stressed that"UK airspace is not closed, we have had to apply air traffic flow restrictions which ensures we can maintain safety".
Several airports across the UK, and airlines including Ryanair, EasyJet, Wizz Air, Loganair and Aer Lingus have all warned passengers of delays or cancellations to flights.
A WhatsApp message received by British Airways crews, and seen by BBC News, suggests that while flights are still able to take off and land, the air traffic control system is having to carry out some processes manually, causing "significant delays".
The airline's operations centre is also identifying "suitable diversion airfields if required" – which is necessary given some flights approaching UK airports will only have a finite amount of fuel to hold in the air before they need to land.
Aircraft at overseas airports must not depart until they are told by BA they can, the message says.
Alastair Rosenschein, a former British Airways pilot and now an aviation consultant, called the disruption "huge" – and said the equivalent for cars would be if every road was closed in the country.
"It's a bit of a nightmare scenario, really," he told BBC Radio 5 Live.
Kim Rabbits is stuck on a plane on the tarmac in Lanzarote, and said passengers had been told the UK is not accepting any flights "so we don't know how long we're going to be here for".
"We're all boarded and the doors are locked, and we've been told we need to stay put in case we get a green light," she told Radio 5 Live.
BBC journalist Alex Murray said he was due to fly from Bari, Italy to the UK – but passengers have been told they could expect delays of around six hours.
"At the moment we're waiting to find out if we'll be disembarking until our departure time," he said.
The delays could potentially affect thousands of people. Cirium, an aviation data firm, said 3,049 flights were due to depart UK airports on Monday, and a further 3,054 flights were scheduled to arrive. It is not clear what time the problems began.
According to travel journalist Simon Calder, aircraft are coming down slowly, but that the "flow rate" – at which aircraft can land – has been significantly reduced.
He told BBC News that Bank Holiday Monday is one of the busiest days of the year, as many people return from long weekend trips abroad – pointing out that the UK's Heathrow Airport is the busiest two-runway airport in the world, while Gatwick is the world's busiest single runway airport.
There is "no certainty about when it is going to be fixed" he said, adding that officials appear to "not know at this stage what caused the problem nor indeed how to fix it".
"I fear there are going to be an awful lot of people waking up tomorrow where they don't want to be," he said.
Ryanair said it will be "forced to delay/cancel a number of flights", while Wizz Air also said there could be "heavy delays and possible cancellations".
British Airways said it was working with NATS to "understand the impact" of the issue, and said it will keep customers updated, while Aer Lingus urged passengers to check their flight status before going to the airport as "delays and cancellations are likely".
Spokespeople for London Luton, Stansted, Heathrow and Gatwick airports all said they were experiencing issues, and urged customers to contact their airlines. Liverpool John Lennon Airport said "some flights might be subject to a delay", while Edinburgh Airport urged passengers to check with their airline before going to the airport.
Irish minister of state for transport Jack Chambers warned of a "major" knock-on impact on flights to and from Ireland as a consequence of the issues in the UK.
The air traffic control issues in the UK are "resulting in delays and cancellations to some flights into and out of Dublin Airport," the airport told BBC News in a statement.

Please include a contact number if you are willing to speak to a BBC journalist. You can also get in touch in the following ways:
If you are reading this page and can't see the form you will need to visit the mobile version of the BBC website to submit your question or comment or you can email us at HaveYourSay@bbc.co.uk. Please include your name, age and location with any submission.
Article source: https://airlines.einnews.com/article/652357020/SKbozMNdmVv5Q5Wp?ref=rss&ecode=vaZAu9rk30b8KC5H