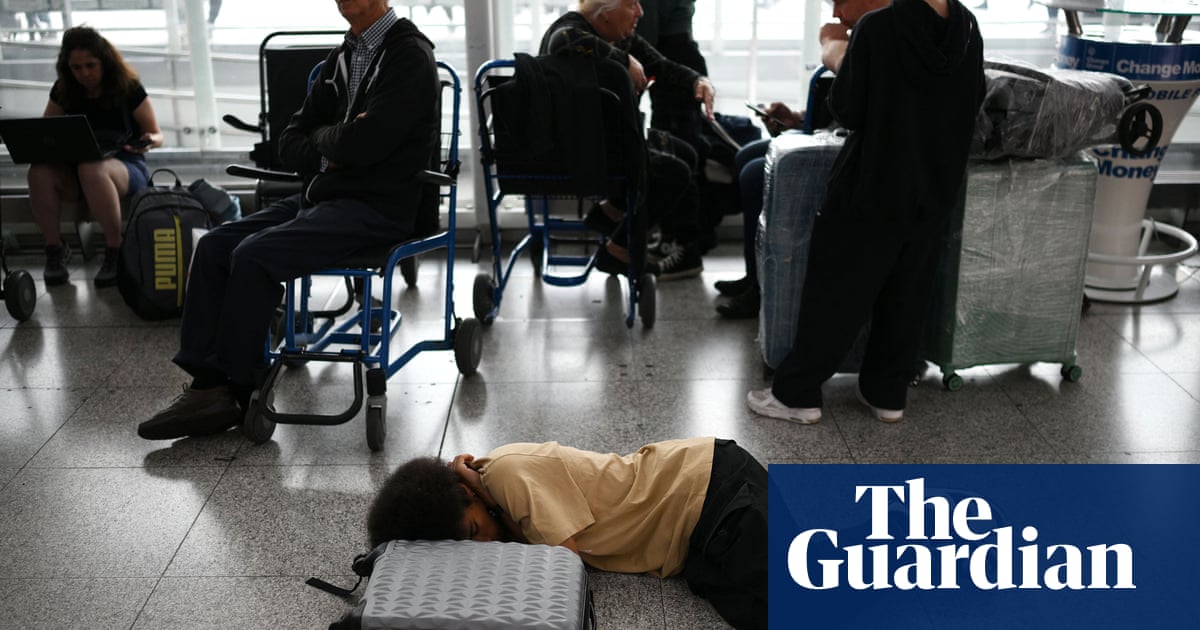 Airlines have urged reform of compensation rules after the "staggering" revelation that a single wrongly input flight plan to UK air traffic control disrupted hundreds of thousands of passengers' flights.
Nats, which controls UK airspace, said "an unusual piece of data" had caused the unprecedented system failure on Monday, which led to more than 1,600 flights being axed and many more delayed.
Would-be holidaymakers and returning travellers were counting the cost on Wednesday, with many missing trips or yet to fly home and having to arrange accommodation.
EasyJet started additional repatriation flights from Spain and Portugal, as stranded passengers reported having to sleep on floors, amid criticism of airlines for failing to look after customers.
The prime minister, Rishi Sunak, reiterated calls on airlines to "honour their obligations" while Labour said the government should give the regulator more powers to protect passengers.
Sunak said: "It is important that airlines honour their obligations to passengers with regards to accommodation and flights to bring them back home."
Airlines are not expected to pay additional delay compensation to passengers for the current meltdown, as the circumstances are deemed outside their control.
But industry body Iata estimated airlines could lose £100m in revenue and in the costs of alternative travel as well as accommodation and food that passengers can reclaim, and urged the Civil Aviation Authority (CAA) to review the system to make Nats (formerly known as National Air Traffic Services) contribute.
Willie Walsh, the director general of Iata, said: "It's very unfair because the air traffic control system, which was at the heart of this failure, doesn't pay a single penny."
The row escalated as Nats' chief executive revealed that one piece of data received had sparked the system failure when it "didn't recognise a message".
Martin Rolfe said that Nats' automatic flight planning had been designed to stop for safety reasons to "ensure that no incorrect information could impact the rest of the air traffic system".
He ruled out a cyber-attack, and declined to confirm or deny claims that the wrongly submitted information came from a French airline.
Walsh said it was a "staggering" explanation. He told the BBC: "If that is true, it demonstrates a considerable weakness."
He said that the UK should "look at the way passenger compensation is dealt with to ensure that the people who are responsible for the delays and cancellations ultimately bear the costs".
However, Labour's shadow transport secretary, Louise Haigh, said airlines had long "played fast and loose" and ministers should "stop dragging their feet and give regulators the powers they need to stand up for passengers".
An investigation is ongoing and the regulator, the CAA, is due to deliver a first report to the transport secretary on Monday.
About 70 flights were cancelled on Wednesday morning, primarily at London Heathrow, as operations returned near normal, after almost 400 flights were cancelled on Tuesday due to planes and crew being out of position.
Some flights were still delayed for more than an hour at London Gatwick, where the biggest carrier, easyJet, cancelled virtually all international flights on Monday afternoon due to the stoppage. The airport said average delays were down from 40 minutes on Tuesday to 13 on Wednesday.
The chief executive of Gatwick, Stewart Wingate, said: "We've worked really hard with our key airline partners, to make sure that we work collectively to do the right thing by our passengers."
He said the airport would "certainly incur costs", but a fraction of airlines', and said "at the forefront of our minds is to look after passengers' welfare".
On Tuesday, the transport secretary, Mark Harper, appeared to suggest an independent inquiry. Wingate urged that any such inquiry be done quickly: "What we'll then hopefully see are actions put in place to give us even more resilience to the Nats systems."
Earlier, Rolfe said that the UK's air traffic control system was "the envy of the world" due to the amount of planes it could handle.
He told the Independent that the issue was first identified at about 8.30am on Monday, and engineers hoped to fix it within a four-hour timeframe that would allow backup systems to operate. However, unusually they were unable to remedy it in time. He added: "The reason for the disruption was precisely because we are absolutely wanting to guarantee everybody's safety."
Article source: https://airlines.einnews.com/article/652859092/IrJ2rIACtnWFFqa5?ref=rss&ecode=vaZAu9rk30b8KC5H