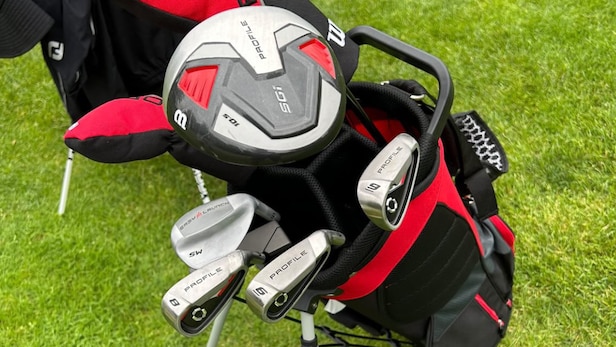 It's a nightmare. You have a tournament on the horizon and the airline loses your clubs. Perhaps it's Spirit Airlines—odds are that it's Spirit Airlines—but you can't turn back time. Especially because there's potentially $100,000 on the line.
This all sounds too horrific to be true, but tell that to Quinn Riley, who found himself in that exact situation this past weekend. The PGA Tour Canada pro and former Duke Blue Devil found himself without his clubs heading into a Québec Open qualifier in Cowansville, Canada after his set was lost during travel. The always-on-the-ball Monday Q Info/Ryan French provided updates throughout the ordeal.
That's a nice set for someone learning the game of golf, but this "hilarious replacement set" that Riley was planning to play with is certainly a far cry from a pro's bag. Internet "experts" agreed. "Someone HAS to have a set that's better than this for my boy," said one. "They still have K-Marts in Canada?" asked another.
It seems like Riley agreed with the skeptics as the Callaway golfer began to search for a new bag with the help of his coach and Monday Q Info. It may be difficult for the non-pro to pull a set together in a matter of hours, however, being a professional golfer comes with some perks.
With an 8 a.m. Monday tee time, Riley looks to have turned lemons into lemonade. He may not have his clubs but he does have positive vibes on his side. "Quinn pieced together a set from players and members," French tweeted. "Thank you everyone who helped out."
What started as agony quickly became a feel-good story. Riley was able to tee off without beginner clubs and will have a shot to sneak into the Québec Open. If karma counts for anything, he's in a good position to win the whole damn thing.
Article source: https://airlines.einnews.com/article/643976802/CRQ75bkz8Oz4l1RD?ref=rss&ecode=vaZAu9rk30b8KC5H